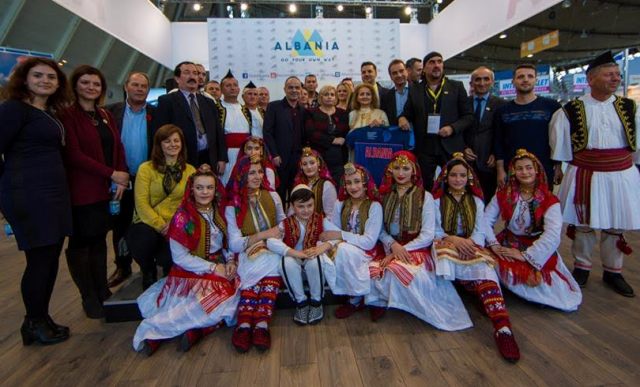 Albania is being presented in the Stuttgart's Fair, Germany, where participants and visitors have been amazed with what this small country in Southeast Europe, not very known to them, has to offer.
Albania is being promoted in several dimensions: tourism, culture and culinary.
The Stuttgart's Expo is visited by 250 thousand visitors a week and Albania has its large booth.
Minister of Economic Development, Tourism, Trade and Enterprise, Mrs. Milva Ekonomi said that in such promoting events, Albania has the great chance to attract as much interest among visitors, as it presents a number of tourist products.
"There's been a lot of interest. Tourists have received brochures for the most beautiful destinations and they have expressed their interest for Albania's tourist packages", Ekonomi said.
In fact, the Albanian booth was "invaded" by the rhythm of folk music and dance by groups that had traveled toward Stuttgart, among which was the polyphonic group from Himara, that brought the artistic spirit of the south.
The displaying of traditional foods has attracted visitors to taste the products of this special kitchen.
Given that the Stuttgart's Expo is an expo for consumers, Albanian authorities are expecting a high number of visitors to visit the country in 2017.
2016 marked a rise in the number of tourists that visited the country and this number was 20% higher than in 2015. /balkaneu.com/