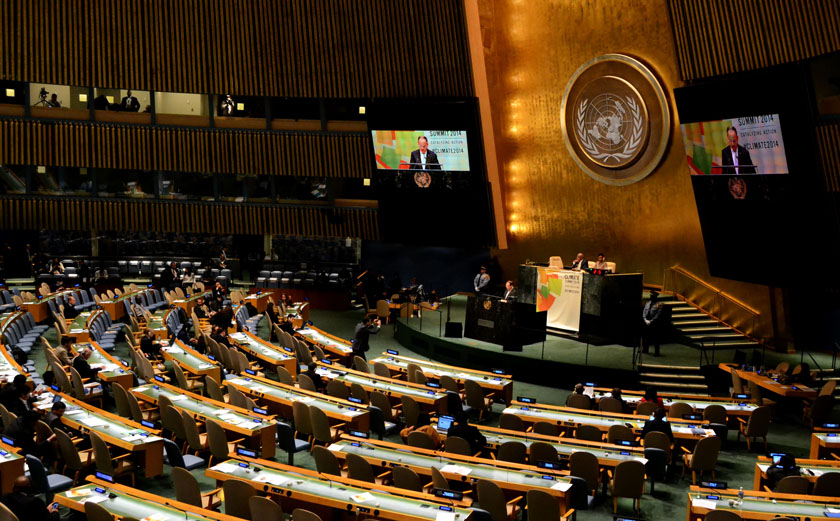 Tirana, September 24, 2014/Independent Balkan News Agency
Albanian authorities are paying lots of attention to climate challenges, therefore they're joining international efforts in this direction.
President of Albania, Bujar Nishani is in the United States of America as the head of an official delegation, at the invitation of the Secretary General of the United Nations Organization (UNO), Ban Ki-mun.
Nishani addressed to the participants with a speech in the framework of the Summit on Climate (photo). He stopped on the policies and strategy of Albania in addressing challenges that relate to the climate changes. "Given that climate change poses a global threat, we share our strong believe in the need to tackle climate changes together, instead of leaving this to one single country", said Nishani. He said that Albania has constantly worked in order to meet its obligations, by implementing a general policy for the protection of the environment. "In compliance with the agenda of the European Union accession, my country is going through a full process of reformation, including the improvement of national legislation,  which takes the climate change under consideration", said the president.
He pointed out that as a small country developing country, Albania has a small impact in the global climate change, but it's suffering other negative consequences. "In Albania, we have faced climate changes. The latest floods and droughts indicate the sensitivity of social, economic and environment systems toward climate changes and point out the urgent need to integrate suitable measures in our national development policies", said the president.
He said that Albania is promoting in an aggressive way, the use of renewable energy throughout the country. "By exploiting the country's potentials, besides water generated power plants, we're currently developing the market for water sun heated systems, wind energy, biomass and biocarbons. We're proud of using self generated electricity 100% of the time".
***
Climate change is a global phenomenon where the responsibilities of each country are difficult to be attributed and the actions of one country have an impact on other countries too.
Experts say that climate change acts as a risk coefficient and contributes in escalating conflicts over natural sources, it prevents economic development and increases pressure on international governing.
In Albania, public opinion is very little sensitive on ecological issues. In the majority of cases, citizens do not see climate change as an adequate problem and believe that they have other more important problems in their daily life.
Nevertheless, the government seems to be aiming at increasing the attention toward the environment. For the first time, a national strategy for the reduction of the dangers of catastrophes and civil protection 2015-2019 will be sent to parliament until the end of 2014. This strategy will take under consideration the effect of climate changes in the intensity and magnitude of natural catastrophes in Albania and determines the action plan which must be implemented in order to reduce these effects. /ibna/