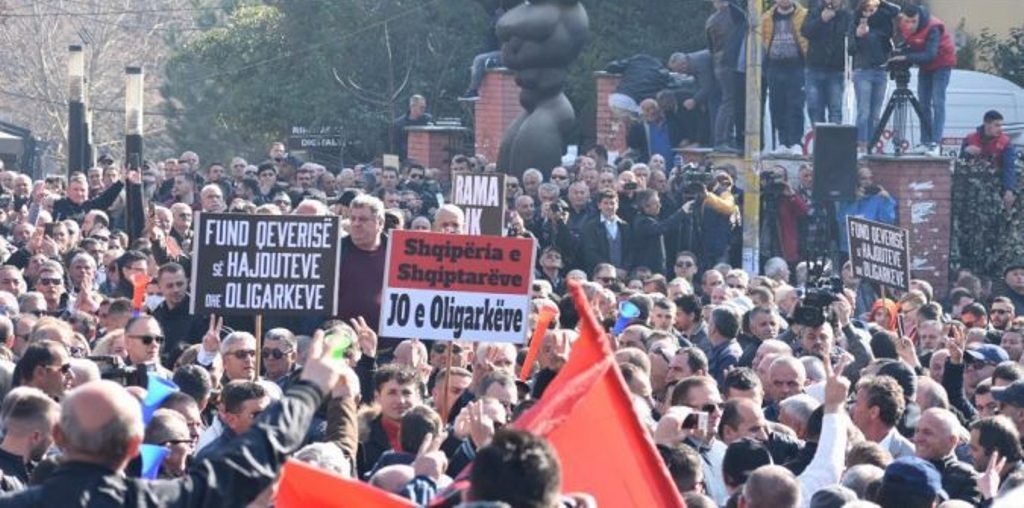 The way the opposition chose to abandon its parliamentary mandates yesterday can be considered as nothing short of a ceremony. The whole thing started as a marching protest from parliament's building to this party's headquarters, where MPs presented their resignation. Despite concerns over possible violence, this protest was different to the one held on 16 February, as demonstrators rallied peacefully.
***
"Parliament's siege"
Yesterday's opposition protest led by democrat leader, Lulzim Basha and leader of the Socialist Movement for Integration Party, Monika Kryemadhi started at the parliament building. The majority was not present in the premises, following the decision taken two days ago by parliamentary speaker Ruci in order to prevent any acts of violence against MPs. Opposition supporters have given flowers to riot police who were deployed in front of Parliament, while lighting candles in remembrance of a "dead parliament".
Basha's message
"I'm Lulzim Basha, citizen of Tirana and I shall be on your side until this battle is won completely". This was the way the democrat leader, Lulzim Basha started his speech in yesterday's protest referring to the opposition's MPs to resign.
"Resignation is just the start for Edi Rama. He will be brought to justice. I call on State Police not to allow the enemy of the people, Edi Rama to cross the borders of Albania", Basha declared.
Kryemadhi's message
On her part, the leader of the Socialist Movement for Integration, Monika Kryemadhi declared at the start of the protest that Edi Rama is using police uniform to oppress citizens. "Today, our mandates no longer belong to a parliament which is surrounded by barbed wire. They belong to the residents of the Ring Road, miners, oilmen and those students who unmasked Edi Rama's corrupt state", she said.
Protesters marched in front of the government building
The leader of the Democratic Party, Lulzim Basha and protesters who were chanting anti-government slogans continued their march in front of the government's building, but without stopping there, they marched all the way to the Democratic Party's headquarters.
MESSAGE
Basha: Today we're on the side of the citizens!
"As of today, we're common people like you and we're on your side". This was the message that was given by the leader of the Democratic Party, Lulzim Basha in front of his party's supporters during the protest that the opposition organized yesterday. "We embarked on a journey of hope, which should not stop until this country ousts this criminal government", he said.