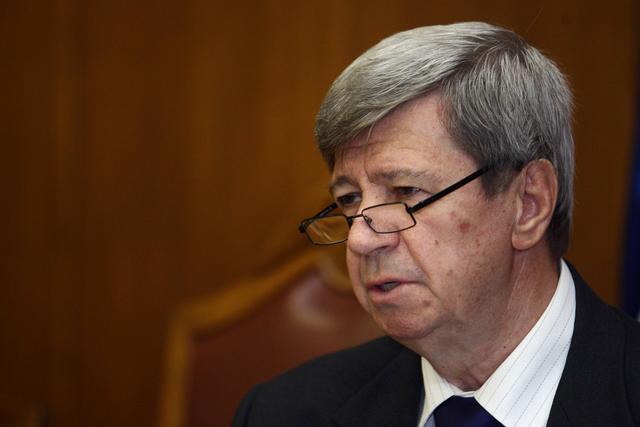 Member of European  Parliament and former European Commissioner for Albania, Eduard Kukan: "Albania can only move forward if decriminalization is carried out, not in a partial way, but as a whole and systematically"
Tirana, 23 October 2015/Independent Balkan News Agency
By Edison Kurani
Serbia is expected to receive a positive signal for the opening of the chapters of EU accession talks at the end of the year.
Meanwhile, Albania is not expecting a positive answer due to the lack of advancement in the process of decriminalization and reform in the justice system.
Kukan and Fleckenstein have brokered the agreement on decriminalization. The opposition insists that this process is being delayed. Yesterday, Lulzim Basha declared in the EPP Congress that the Albanian government was not collaborating on the issue of decriminalization.
But is decriminalization considered as a prerequisite along with the five other criteria for the launch of talks?
Member  of European Parliament and former European Commissioner for Albania, Eduard Kukan says that Albania can make progress only if the process of decriminalization is carried out. He says that this process must not be a partial one, but entire and systematic.
Speaking from Brussels on the latest developments in Albania, Mr. Kukan said that if this issue is not solved, then there cannot be integration. "We're here to help, because we want Albania to have a date for the launch of talks, but first of all, the issue of decriminalization must be solved", Kukan said, noting that "as usual, there are attempts to find excuses to slow down the process".
Eduard Kukan is very clear when he says that decriminalization must be taken seriously and he recalls the fact that "this was an agreement that we brokered".
"We must not allow for the issue of decriminalization to be forgotten. We will discuss as to how we can help in this process in order to help political parties in Albania to handle this issue. Unfortunately, you always need support from abroad", Kukan says, noting that "it's time for the political class in Albania to be more responsible".
Kukan argues that decriminalization is progressing slowly and notes that "attempts are always made to find excuses to slowdown the process". According to him, "this is truly something bad".
"If the process of decriminalization is finalized, then this will be in the best interest of the government, the opposition and the entire political class in Albania. This because if this problem persists, then we will find ourselves in front of politicians with criminal records. This must end once and for all. Albanian politics must become clean. We are getting ready for a new incentive and we want to be concrete. We feel responsibility, because we are involved in this process and want to help again", Kukan says.
According to him, if the process of decriminalization is finalized along with the reform in justice, "then this will truly be a step forward for Albania and then, Albania's ambitions can be high and nobody can act as an obstacle for this".
The Congress of the European People's Party (EPP) in Madrid is the most important congress that addresses important challenges such as the refugee crisis, security and European defence and political recovery. This Congress also discussed cooperation with the Balkan countries on the refugee crisis. /ibna/