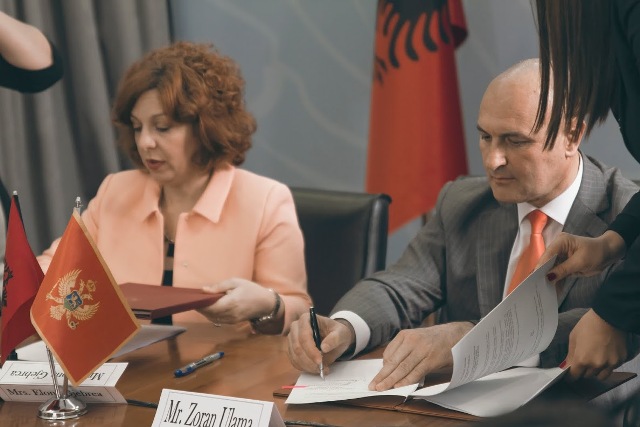 Tirana, December 9, 2014/Independent Balkan News Agency
National Coordinator for Issues of the Fight against Human Traffic in Albania, Elona Gjebrea Hoxha and National Coordinator for Anti-traffic of Montenegro, Zoran Ulama have signed a protocol for the Intensification of Cooperation in the Fight against Human Trafficking.
This protocol involves the improvement of identification, information, referral and rehabilitation of victims or potential victims of trafficking and also a quick and accurate exchange of bilateral police information.
In the ceremony organized on this occasion, the deputy Minister of Interior, Elona Gjebrea said that during the several years worth of efforts for regional and international cooperation for the prevention and fight against human traffic, efficient mechanisms have been put in place for the exchange of experience and the best practices to tackle perpetrators and criminal groups and also to offer the necessary, unconditional and timely services for victims of trafficking.
A few days ago in London, the Minister of Interior, Saimir Tahiri signed, along with the British Home Secretary, a Memorandum of Cooperation "Over the Intensification of Cooperation in the Fight against Human Traffic on the Improvement, Information, Referral and Rehabilitation of Victims of Trafficking".
Meanwhile, the Protocol between the Republic of Albania and Republic of Montenegro, came as a need to intensify cooperation and coordination between the two countries.
For Albanian authorities, this protocol completes the Agreement reached between the Council of Ministers of the Republic of Albania and the Government of the Republic of Montenegro for cooperation in the domain of the fight against organized crime, terrorism, illicit traffics and other illegal activities.
The protocol is expected to bring regular exchange of information, which will enable the prevention, identification and documentation of criminal offenses that relate to the trafficking of human beings.
"What needs to be stressed is the fact that the exchange of information will not only be limited to cases of trafficking, but it will also include other situations, especially cases of children and women who are exploited or are in danger to be trafficked", Gjebrea says.
"Concrete measures for joint action, with the scope of preventing trafficking and exploitation and by covering a wider domain of needs, tendencies and different specifics of the phenomenon, will bring a pro active approach of law enforcement structures and actors that offer services and assistance for potential victims of trafficking", Gjebrea added.
For the Montenegrin side, the joint efforts, the will to rigorously fulfill the obligations stemming from this protocol will lead to the identification, referral and protection of victims, enabling their return to normal life and the identification and punishment of the perpetrators. /ibna/