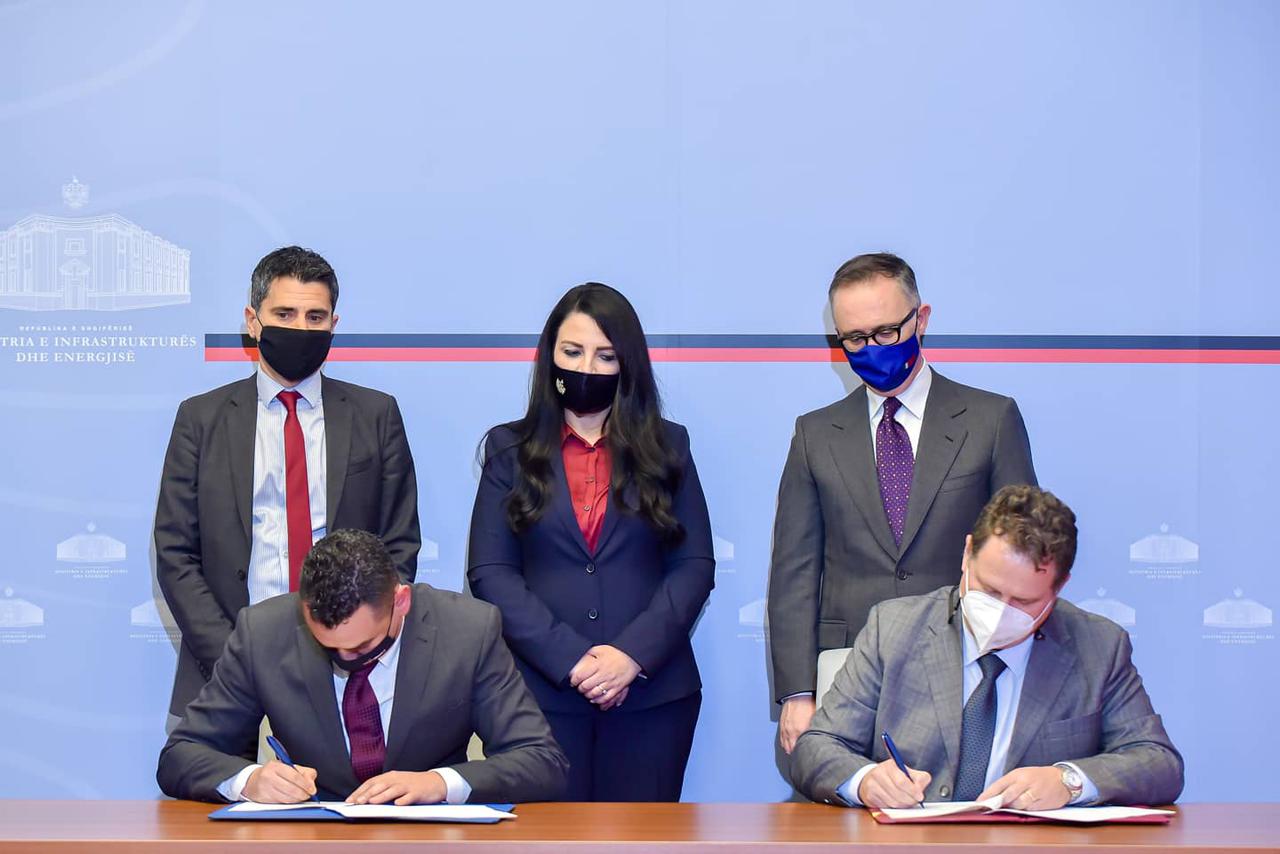 The Minister of Infrastructure and Energy, Belinda Balluku, signed on Wednesday the contract for the start of the works for the construction of the new Tirana-Durres railway.
"The construction of the Tirana-Durrës railway and the 5.7km-long connection with to the Tirana-Rinas international airport", Minister Balluku said, "is a strategic investment that, after decades of gaps, opens the chapter of the Albanian railway revival priority that coincides with the vision of the European metropolis of Tirana Durres.
The work for the construction of the railway line is expected to take about 30 months, making it ready in the summer of 2023.
"The project for the construction of the Tirana-Durres railway and the connection to Tirana International Airport is one of the government's priority projects set out in the national strategic plans. It envisages the improved connection of transport and energy networks in the Western Balkans and serves as a driving force for economic growth", Minister Balluku said.
The construction of this railway covers the area with the greatest economic activity in the country.
The Tirana-Durres railway line significantly reduces the distance between the two cities in 22 minutes and from Tirana to Rinas Airport in just 12 minutes.
Also, the operation of this line affects the avoidance of traffic congestion and the reduction of air pollution from traffic.
"It will significantly affect the creation of new jobs. It is expected to employ 2,200 people and from its use it is estimated that the savings will be around 55 million euro per year", according to Balluku.
Twenty-two companies participated in the tender for the construction of the railway line, with a Rinas Airport as a stopover.
The large Italian company "INC S.P.A with many years of experience has presented the best technical and financial offer", Balluku explained.
Matteo Colangeli, director of the European Bank for Reconstruction and Development's office in Tirana, stressed that the signing of this agreement is extremely important for the impact that this infrastructure project has on the country in terms of business opportunities, linking one of the main ports of the Western Balkans with Tirana.
He also stressed that it will have a positive impact on the daily lives of citizens in the most densely populated urban area of ​​Albania.
"A good and functioning railway network is important for any developed European economy and we are committed to continuing to work with Albania on future projects in this field. The priority will be to connect this line with the new station, in the center of Tirana, which is funded through an EBRD grant, as well as with the connection to Montenegro", Colangeli said./ibna