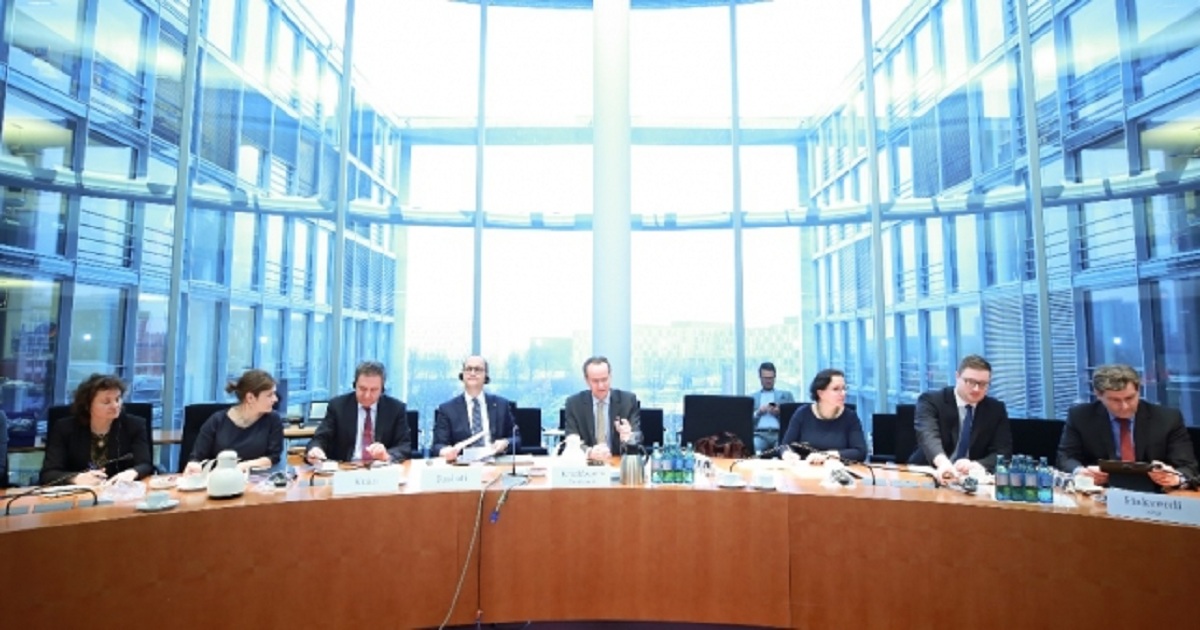 During his visit to the Federal Republic of Germany, Minister for Europe and Foreign Affairs, Ditmir Bushati, in addition to meetings with German MPs from various political parties, held a hearing in the Parliamentary Commission on EU Affairs with the presence of rapporteurs for Albania in the Bundestag. This hearing is part of an intensive communication with the German parliament, especially with the MPs engaged in EU affairs and the Western Balkans region.
Minister Bushati made a presentation of Albania's progress in the area of reforms and in addressing the five key priorities. He briefed the MPs with the country's expectations about the process of the launch of accession talks.
During his address, Minister Bushati expressed his gratitude for Germany's support in the EU enlargement process and in particular in the promotion of Albania's efforts in this context.
Minister Bushati stated that Albania has made concrete steps to advance in its EU integration path, underlining the need to preserve the momentum created in implementing reforms through advancement of relations with the EU.
In this context, Minister Bushati informed the MPs about the progress of justice reform, focusing on the vetting process, the results achieved in the fight against organized crime and corruption as well as the close cooperation with law enforcement agencies of partner countries. He also mentioned the role of our country as a factor of stability in the region.
On his part, the Chairman of the Bundestag EU Affairs Committee, Gunther Krichbaum, praised the progress made by the Albanian government in addressing the five key priorities, highlighting the need for accelerating implementation of the undertaken reforms, especially the judiciary, given its impact on the life of every Albanian citizen.
Minister Bushati encouraged the Bundestag to continue supporting this transformating journey for our country, carrying out all the undertaken reforms, in the framework of opening membership negotiations based on merit and the fulfillment of the reform process.
In the course of his visit to Germany, Minister Bushati held a meeting with the Chairman of the Foreign Policy Committee in the Bundestag Dr. Norbert Röttgen. Both interlocutors exchanged views on the EU state of affairs, the perception of the enlargement process and the European perspective of the Western Balkans. /balkaneu.com/