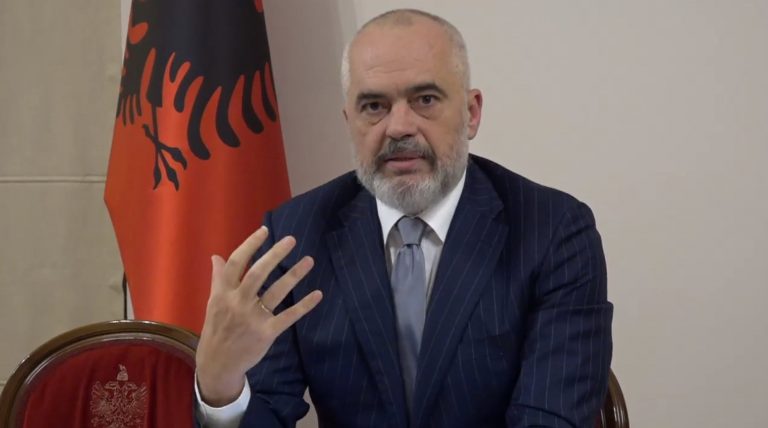 On Friday, Albanian Prime Minister Edi Rama commented on reports exposing that the articles published three years ago on toxic Italian waste sent to Albania were fabricated by Ilir Meta's advisor, Ilir Kulla.
The head of government said that the slander back then was "intended to supply ammunition against me at the stage set up by opposition protesters who gathered under the window of the then Speaker of Parliament (Ilir Meta)".
"This rubbish of slander was intended to supply ammunition against me at the stage under the window of the Speaker of Parliament! But the most disgusting thing is that the garbage, in the eyes of the world, was thrown in the face of Albania! This is the opposition that wants to save the nation from me", Rama said.
The article published today on Shqiptarja.com refers to the decision of the Italian prosecutor's office to arrest 8 people over the "Fake News" published 3 years ago by the Italian website "Pianeta Italia News", reporting on the 1,400 toxic waste containers that had been sent to Albania for burial.
Following an investigation, the Italian prosecution revealed that the advisor with the initials I. K. to the current president Ilir Meta was behind the scandal. "The news was produced at the behest of Ilir Meta's adviser", the Italian Anti-Mafia Investigation Directorate (DIA) states. Among the eight people arrested in Italy for the scandal is former Senator Sergio de Gregorio, owner of the Pianeta Italia News website, which reproduced the fake news, as Shqiptarja.com reports.
The DIA notes that "A person working for Ilir Meta ordered the campaign against the Albanian government in the neighboring country's media. The defamatory campaign began in 2017 and was backed by the Albanian opposition at the time.
Ilir Meta's advisor was in Italy on February 26, while 2 days later the "Pianeta Italia News" website published the fabricated news. The adviser to the current head of state arrived in Italy two days before the publication of the article to closely monitor everything in the attempt to overthrow the Albanian government.
The recorded phone conversations reveal that the Italian website would receive 55 thousand euros for the publication of the article.
On Friday, the Italian Judiciary confirmed that eight people had been arrested and revealed that Ilir Meta's adviser was behind the government's attempt to overthrow him.
Meta's adviser, Ilir Kulla, reacted after the publication of this article, describing it as mere slander, without denying his acquaintance with the former senator involved in the case. /ibna