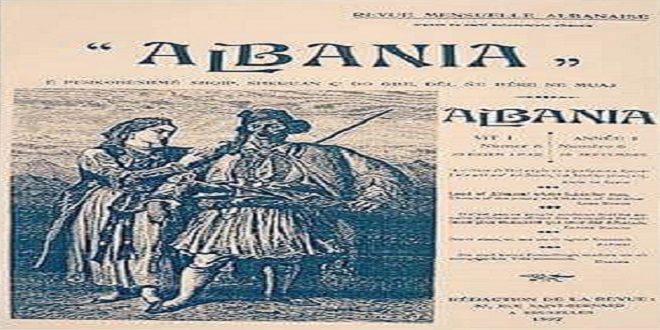 Tirana, 28 March 2016/Independent Balkan News Agency
"Albania" is considered to be one of the most important magazines and a magazine for the elites.
Established on 25 March 1897, this magazine was published under the auspices of prominent Albanian writer and publicist, Faik Konica.
This magazine was printed in Brussels and was distributed in Albania.
The magazine is being republished, due to the fact that it was considered to be an intellectual source which never loses its values.
The value of the republication rests on the fact that it comes as a full encyclopedia of the history, culture, politics and all of the domains of that period.
In this magazine, its founder, Konica, laid the foundations of the Albanian thought in several domains.
The magazine handled aspects of history, literature, language and other aspects of the Albanian reality. The scope of "Albania" magazine was to reawaken the national feeling, social emancipation and independence of Albania.
This magazine published in the Albanian language, French and partially Turkish, was a true encyclopedia which included a large amount of information.
"Albania" turned into a tribune of Albanian thought, which published articles by the elite of the National Renaissance. The publication of this magazine continued until 1910.
Konica's publications have come out before, but they have been altered. Meanwhile, "Albania" comes in the original version, without changing any letter.
Faik Konica used the French language, because "Albania" magazine was the only window where Europeans could learn on Albania".
This magazine, which was a political, cultural and literary issue, became an important voice and a very authoritarian one of the Albanian national Renaissance, where it published poems, sketches, stories, portraits, essays, different articles, etc.
Journalism occupied a large part of Konica's work. Even today, he's considered to be one of the founders and masters of Albanian journalism. For half a century, Konica wrote hundreds of articles, pamphlets, notes, essays, etc. Konica's journalism focused on issues of the national cause, but he paid special attention to the awareness of the international community for the values and history of the Albanian people.
Along with Fan Noli, Faik Konica is considered by different academics as co-founders of the Albanian literary critic.
Faik Konica was born in Konica on 15 March 1875 in an old feudal family where he was educated in Turkish, Arab and Greek. He studied in the French Imperial High School of Istanbul and then continued his studies in France. After that, he studied philosophy in Dijon, France and in 1912, he graduated in literature in the university of Harvard in the USA.
Along with Noli, as the main leaders of the Albanian national movement in the USA, they went to London to defend the national cause in the Ambassadors' Conference. /ibna/