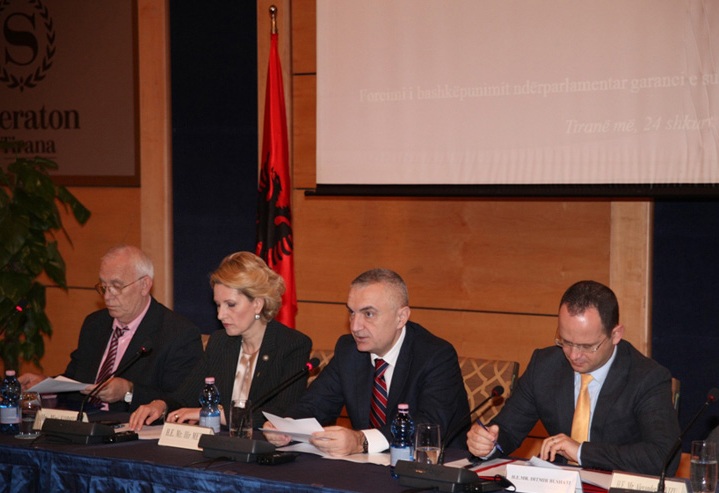 Tirana, February 24, 2014/Independent Balkan News Agency
"Albania is loyal to NATO's principle of open doors, because we have clearly seen the positive result that this policy has produced in the recent years, not only as a contribution for the Balkan region, but also for a greater vision of a united, free and peaceful Europe".
This was declared today (24.02) by the speaker of the Albanian Parliament, Ilir Meta during a conference hosted in Tirana called "Strengthening of cross-parliamentary cooperation, the guarantee of the success of Adriatic Charter-USA, hosted by Parliament.
"We offer this support, because we're convinced that the progress with these interrelated processes will bring more security, long-term peace and more prosperity, taking us closer to policy making standards and living standards of the European Union", said Mr. Meta.
Meta also talked about what he considered to be as a global economic crisis which has shaken the foundation of the economic security of EU member countries. According to Mr. Meta, this crisis has offered more challenges and has increased security dimensions throughout Europe.
"Under these circumstances, I'm fully convinced that the strengthening of cooperation between our countries takes a special dimension. Parliament of Albania, as a NATO member country, is aware of the important role that we have in the Balkan in order to serve peace and security in our region. For this reason, we're always convinced for our constructive and regional cooperation policy by putting aside conflicting approaches and by focusing our efforts in accelerating the agenda of regional and Euro Atlantic integration not only for our country, but also for our neighboring countries, which share the same geographical and cultural space that we do", said Meta.
The speaker of parliament said that the best security policy in the Balkan is strengthening inside it. He said that this must happen through concrete incentives with the support of European and American partners.
Greeting the participation of the delegation from Kosovo, Meta said that "the joint parliamentary mission of Adriatic Charter countries will be the strengthening of cooperation and the undertaking of legislative incentives which serve to the lifting of barriers and increase of human and commercial capacities between our countries".
Present in the conference are delegations from Albania, Bosnia, Croatia, Serbia, Montenegro, FYR Macedonia, Kosovo and Civil Society. In previous conferences, Belgrade has conditioned its participation with the absence of Pristina. /ibna/