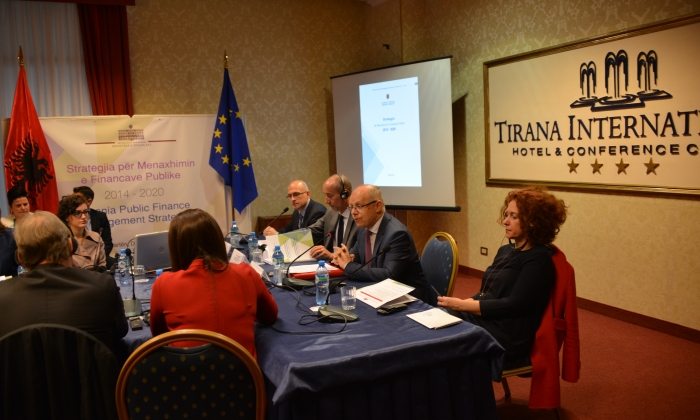 Tirana, April 16, 2015/Independent Balkan News Agency
The Ministry of Finance of Albania presented the Strategy to reform Albania's Public Financial Management (PFM) system for the period 2014-2020.
Minister of Finance Shkelqim Cani said that the implementation of this comprehensive strategy "will substantially improve the management of public funds, thus offering better services for the citizens and improving the pace of the country's economic development."
The PFM strategy, developed by the Ministry of Finance, with input from an wide range of institutions, including the High State Control and advice from the EU, IMF , World Bank, aims to tackling the shortcomings of the entire public financial management system.
Addressing the meeting, DG NEAR's Director for Western Balkans Jean-Eric Paquet said: "A modern and transparent management of public funds will free up hundreds of million € for the Albanian citizens to improve their daily life. Reducing waste of money, increasing efficiency, eliminating corruption and mismanagement of scarce resources are the easiest tools in the hands of the country for competitiveness and economic development."
Albania's PFM Strategy is geared to put in place a prudent macro fiscal framework, strengthened medium term budgeting of public expenditure, controls on multi-year commitments, improved collection of revenues and transparent financial reporting mechanisms. The strategy aims to establish better internal control and financial management practices, prevention and fight against fraud and corruption in the management of public funds as well as enhanced external audit and oversight of the budget.
The adoption of the Strategy was a key milestone that enabled the way for the EU Sector Budget Support program. The EU Sector Budget Support program of €40 million provides funds to the national budget in the next three years on the basis of reforms achieved.  It will also be coupled with increased transparency towards the public, support to the Parliament in its oversight role and in empowering of the civil society organisations.
This was first meeting of the PFM Reform Steering Committee, led by the Ministry of Finance, which will drive the implementation of the strategy. The EU and other stakeholders as well as civil society organisations are foreseen to have an active role in monitoring the developments. /ibna/