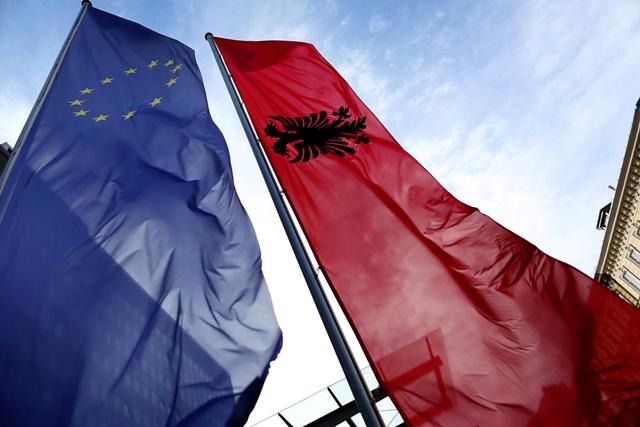 Tirana, 19 October 2016/Independent Balkan News Agency
Albania has high hopes that United Europe will decide to launch accession talks.
This is an old aspiration of the Albanian people and a permanent challenge of all governments after the fall of communism.
The current phase for Albania now is the EU candidate status. But this process is still long and key to this is the launch of talks which is followed by the deliberation of the chapters, which are the last steps before deciding the accession of a country as full member of the EU.
The government is being cautious in its declarations regarding this process. It says that it remains to be seen what the European Commission will propose in November and what will be decided in December.
The ambition of Prime Minister Rama's government is to achieve a positive recommendation by the European Commission with this year's report. And this report is expected to become public on 9 November.
However, signals for a positive decision for the launch of talks between Albania and the EU have strengthened in the recent hours by the Austrian ambassador to Albania, Johan Sattler.
From Shkoder he said that he's optimistic about the launch of negotiations in December. "Albania made a significant step with the consensus reached on 21 July when voting the Constitutional Reform, which is synthesized with the Reform in Justice. This is a significant step to enable the launch of talks with the European Union".
The Minister of Integration, Klajda GJosha is also optimistic. She says that with the consensual approval of the reform in justice, Albania is ready to receive a recommendation for the launch of talks.
While the European Commission is expected to recommend the launch of talks in November, this recommendation is expected to be granted and the launch of talks to be approved a month later by the European Council.
But Brussels will not be that lenient toward Tirana. It will demand for the reform in justice, which was voted unanimously, to be applied.
"The launch of negotiations doesn't only require the approval of the reform in justice. The launch of negotiations also requires the application of this reform", says the Austrian ambassador to Albania, Johan Sattler. /balkaneu.com/