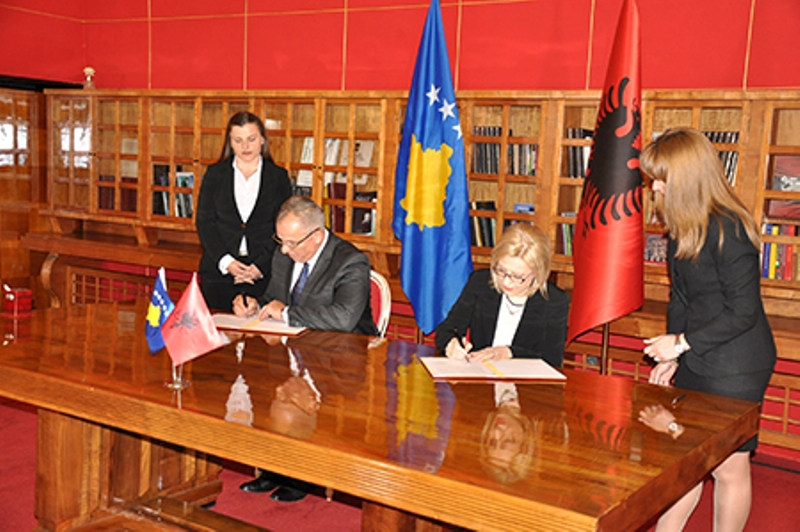 Tirana, June 3, 2014/Independent Balkan News Agency
As of today, Albania and Kosovo officially have a unified education system. Schools in the Republic of Albania and Republic of Kosovo will learn with the same texts and with the same school system.
An agreement was signed on Tuesday in Tirana about the Curriculums of Pre-University Education between Albania and Kosovo. Minister of Education and Sport of Albania, Lindita Nikolla, along with her counterpart from Kosovo, Rame Buja have signed this agreement during a ceremony at the Council of Ministers, with the presence of the Albanian government, Edi Rama.
Minister Lindita Nikolla said that with the signature of this agreement, a new era for the Albanian education is starting. "The new curriculum enables mobility. A student of Kosovo can come and be a student of a school in Albania and vice versa, but also in the EU, because the curriculum that we unified is the official curriculum of the EU member countries", said Nikolla.
Minister of Education of Kosovo, Mr. Rame Buja considered this as a historical agreement. "With this historical agreement, we're making a serious step in the national domain of knowledge. Albania and Kosovo are now joined in knowledge", said Buja. He added that Kosovo too is making an important step, because it's getting ready to apply for adherence in the Bologna system.
Prime minister of Albania, Mr. Edi Rama said that this agreement marks a foundation stone for the joint education between  Albania and Kosovo. "The work that will be done for education must be used for us to join forces and experiences toward the Europeanization of education. The steps toward a unification of the education system are not a movement toward a mechanic unification, but a common journey toward what we want to have tomorrow for the next generation of Albanians", said he.
The new curriculum enables mobility, which enables a student from Albania to be educated in Kosovo without a problem and the opposition. The curriculum, similar to that of the European Union, will be launched in September in all 12 districts of Albania.
With this agreement, Kosovo and Albania made concrete steps toward the integration of the education systems of both countries and the creation of the necessary conditions for pupils in the future to learn by using the same text books, like it's happening with the Joint ABC-book. /ibna/