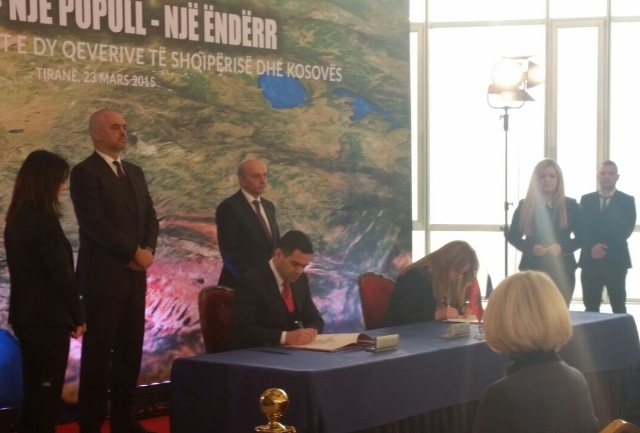 Tirana, March 23, 2015/Independent Balkan News Agency
Albania and Kosovo signed today 11 cooperation agreements involving different domains, among which is the "Stimulation and Facilitation of Trade". The agreement was signed by the minister of Economic Development, Tourism, Trade and Enterprise of Albania, Arben Ahmetaj and the minister of Commerce and Industry of Kosovo, Hykmete Bajrami (photo).
This agreement for the stimulation and facilitation of commerce aims to lift all non tariff barriers between the two countries, in order to boost trade.
Albanian minister, Ahmetaj says that the aim is to place economic relations on new foundations of cooperation and trust.
"We believe that the best way to boost competition of domestic products for both Albania and Kosovo is the opening of our markets to the products of each other and the facilitation of exchanges between people and enterprise", Mr. Ahmetaj says.
In 2014, trade volume with Kosovo was 176,78 million Euros or 17,8 million Euros more than a year ago. From one year to another, there's been a 11% growth.
Albanian exports to Kosovo marked a growth by 15%, amounting to 134,1 million Euros as opposed to 116,1 million Euros in 2013. In comparison to the total, they make up for 7,3% of Albanian exports.
Today, Albania counts  649 businesses from Kosovo, but the value of investment is low. 13.2 million Euros or 0.46% of the total of direct foreign investments. /ibna/