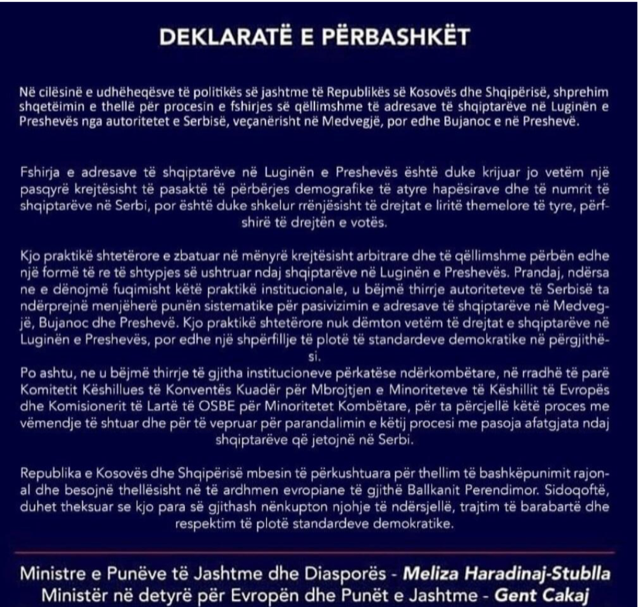 In a joint statement, Albania's Deputy Minister for Europe and Foreign Affairs, Gent Cakaj, and Kosovo's Minister of Foreign Affairs and Diaspora, Meliza Haradinaj-Stublla, expressed deep concern about the process of deliberately deleting Albanian addresses in the Preševo Valley.
In their statement, the two ministers stated that the deletion of the Albanian addresses in the Preševo ​​Valley not only creates a completely inaccurate picture of the demographic composition of these areas and the number of Albanians in Serbia, but also violates their rights and freedoms, including the right to vote.
In addition, Ministers Cakaj and Haradinaj-Stublla called on the relevant international institutions, in particular the Council of Europe Advisory Committee on the Protection of Minorities and the OSCE High Commissioner on National Minorities, to monitor this process closely and to prevent this process that will have long-term political, social and institutional consequences for all Albanians living in Serbia.
"The Republic of Kosovo and the Republic of Albania remain committed to deepening regional co-operation and deeply believe in the European future of the Western Balkans as a whole. However, it must be emphasized that this means, first of all, mutual recognition, equal treatment and full respect for democratic standards", concludes the joint statement of Ministers Cakaj and Haradinaj-Stublla.
The area of ​​the Preševo ​​Valley is in the Republic of Serbia, where the majority of the inhabitants are of Albanian origin./ibna