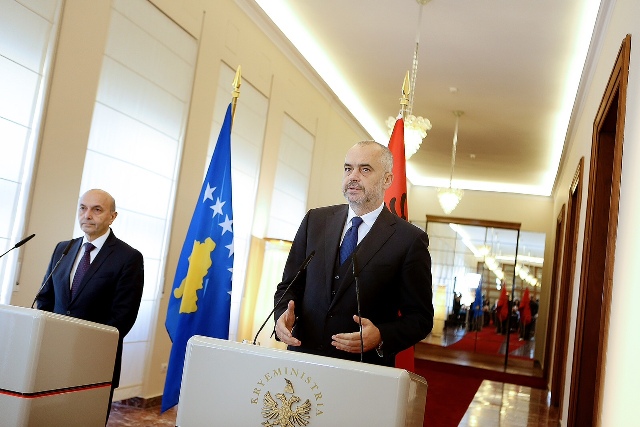 Tirana, March 9, 2015/Independent Balkan News Agency
Prime Minister of Albania, Edi Rama received today Kosovo's PM, Isa Mustafa in his first official visit to Albania. Rama said that "the strategic partnership between the two countries, institutionalized in the meeting of Prizren on 11 January 2014, is a key instrument which will determine the impact of the Albania in factor in the region".
Tirana considers cooperation in customs between the two countries and the unification of customs in Morina on 16 February of this year, as the start of economic cooperation between Albania and Kosovo.
These incentives are seen as a significant sign of joint will for an administrative synergy, in order to establish a true economic area, not only in the Albanian speaking lands in the region, but in the region in general.
Rama announced the next joint government meeting on 23 March in Tirana, after the one in Prizren a year ago.
He said that several plans will be examined and added: "Of course there are problems discussed in the framework of the joint ambition of Albanians in Albania, Kosovo and beyond to become part of the European family".
Mr. Rama said that in the joint meeting "we will take a number of steps to remove a number of procedures and regulations that hinder the process of cooperation with the business and the entire process of economic cooperation between the two states".
In this meeting, Rama also launched a message for Brussels: "We understand the difficulties that the enlargement process faces today, however, we will try intensively to fight them and stress everywhere that Europe today needs Albanians like Albanians need Europe".
Prime Minister of Kosovo demanded for both countries to work jointly in economic projects.
"We have lots of room for cooperation in the domain of economy, starting from energy, tourism, infrastructure and in order to realize joint projects, which we would coordinate with you and after this, these projects will serve in order to establish ties with other countries in the region", Mustafa said. /ibna/