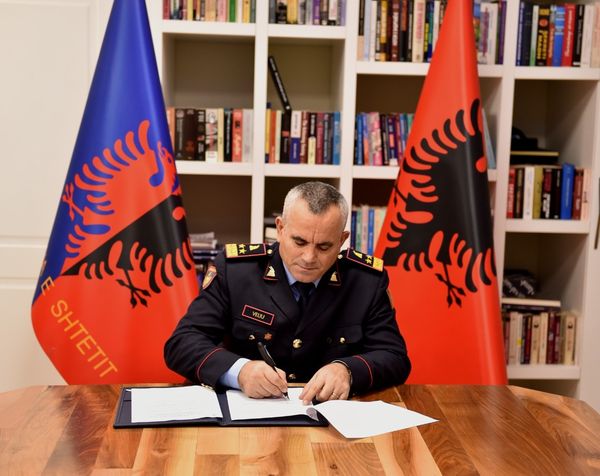 State Police General Director Ardi Veliu and the General Director of Public Security of the Italian Police Franco Gabrielli signed today the statement of agreement between the General Directorate of the State Police of the Republic of Albania and the Public Security Department.
Franco Gabrielli, Director General of Public Security of the Italian Police, stated that, from an operational point of view, this represents yet another important result in the long-term and integrated cooperation relationship with Albania, that will allow the establishment of a permanent technical round table between the two Police Leaders on strategic issues in the fight against organized crime and drug trafficking.
Ardi Veliu, Director General of the State Police, stated that the creation of the technical round table, at the request of the Italian Ambassador to Tirana Fabrizio Bucci, would be the right platform to share new business needs and approach more thoroughly various matters, unresolved issues and initiatives to be developed, adding to a wide range of tools through which the already excellent police cooperation will be strengthened.
The Declaration of Agreement draws attention to the provisions contained in the Cooperation Agreement between the Government of the Italian Republic and the Council of Ministers of the Republic of Albania for the Fight against Crime, signed in Tirana on 19 June 2007, which provides for the possibility of an agreement on meetings between competent bodies from both countries to verify the status of implementation of the agreement, the results achieved and to determine the next phases of the cooperation program.
The two countries share a long and historic relationship which can be based on a significant Italian presence in Albania, quantitatively and qualitatively through the IPA and Pameca V projects and the office of the security expert, accompanied by an equally sustainable operational activity rooted in the continuous and intensive exchange of information, participation in joint research teams and the search for wanted persons. /ibna