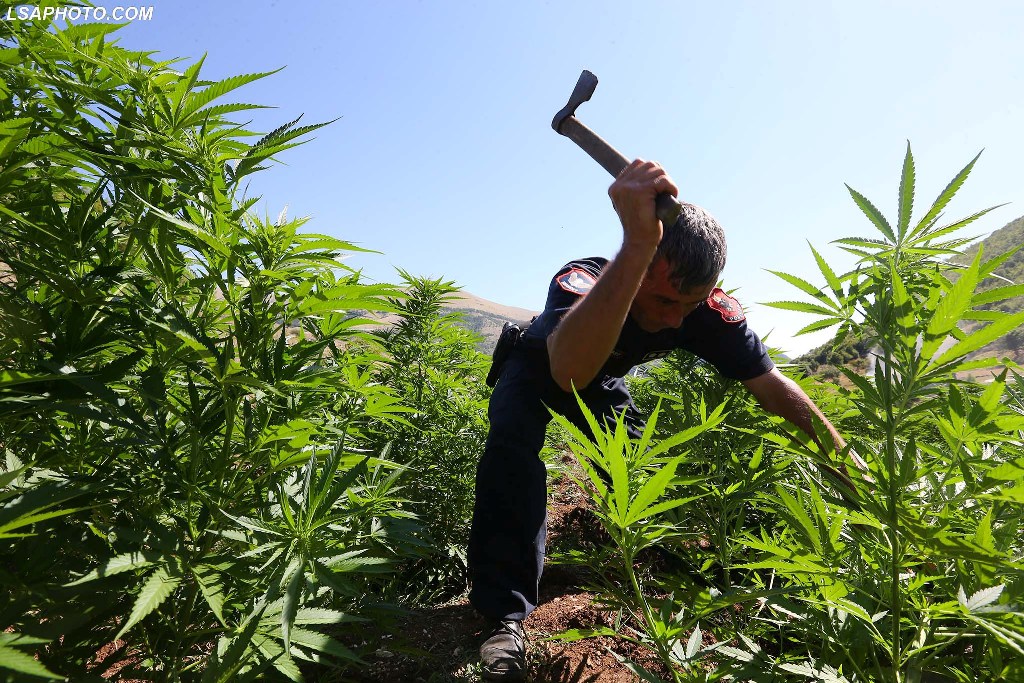 By Edison Kurani
The US State Department has published in the recent hours the report on the fight against the production and trafficking of drugs for 2016, where it considers Albania as the main source country for marijuana and a transit route for cocaine and heroin in the EU countries.
According to the State Department, in 2016, in Albania there was "a growing number of plantations".
"Albania produces and exports significant amounts of marijuana, being a source country and a transit route for the Afghan cocaine and heroin", the report says.
According to the State Department, "the main countries with which Albanian traffickers deal are Italy, Greece, Turkey and other Western Balkan countries".
On the other hand, the US State Department says that "Albanian authorities reported a growing number of arrested people and cases of destruction of drug plantations".
The State Department also quotes figures published by Albanian police in the fight against drugs and the seizure of 30 tons of cannabis in 2016 and the destruction of 2,5 million roots of narcotic plants.
"The number of people arrested for drug traffic on the border is 1,349, while 273 people have been placed under investigation", the US State Department Report says.
The part of the US State Department report on Albania
Albania remains a significant source country for marijuana, as well as a transit route for cocaine and heroin destined for European markets. While Albanian authorities reported an increase in arrests and destruction of cannabis plantations in 2016, there were also reports of increased cannabis cultivation within the country. Albanian authorities continued regional cooperation with Italian Police surveillance units, and the number of drug surveillance flights increased from the previous year. With the exception of cannabis, Albania is not a significant producer of illicit drugs, precursor chemicals, or synthetic drugs.
The Government of Albania does not maintain drug-use prevalence statistics. Except for marijuana, illegal drug use does not appear to be common. According to Albanian State Police (ASP), a total of 30.14 metric tons (MT) of marijuana was seized in 2016, and a total of 2,4536,288 cannabis plants were eradicated. Italian Guardia di Finanza surveillance flights identified 2,086 suspected cannabis plantations and also measured a fivefold increase in the overall level of cultivation. The ASP also seized 57.33 kilograms (kg) of heroin and 7.16 kg of cocaine.
The ASP, including border police, arrested 1,349 people for offenses linked to drug trafficking during 2016. The Serious Crimes Prosecutors Office (SCPO) investigated 273 criminal proceedings for narcotics trafficking. Of this total, 115 investigations were carried over from previous years while 158 investigations were initiated in 2016. In 2016 the SCPO sent 55 cases to court against 81 defendants. The Serious Crimes Court rendered 65 guilty verdicts, to include verdicts in cases already pending in 2016. Albania continues to receive assistance from the United States and European Union countries to enhance its drug enforcement capacities. The government implemented 31 joint operations with international law enforcement agencies through October, mostly in cooperation with Italian authorities.
The United States continues to provide assistance for integrated border management with risk analysis to identify potential traffickers, counternarcotic investigations training, and judicial sector assistance programs. In 2016, the United States provided a two-week training course to members of the Albanian Coast Guard and the Border Police to enhance maritime interdiction capacity. To reduce demand for illegal drugs, the ASP and the Albanian Education Ministry, with U.S. support, continued to co-sponsor a drug-awareness and demand reduction project in 365 public elementary schools in 2016, reaching over 30,000 students.