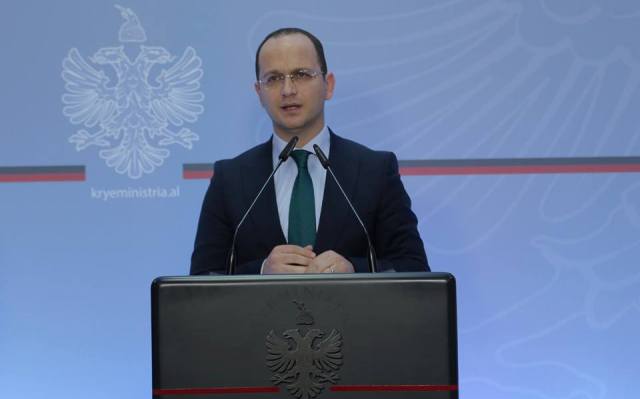 Albanian parliamentary parties the former Yugoslav Republic of Macedonia (FYROM) signed a document where they pledge for the right of state formation and full respect of the Ohrid Agreement.
Tirana sees this document as a good basis to advance some of the obligations of the Ohrid Agreement which have not been delivered yet. It also sees this platform as a good possibility for better cross ethnic harmony in FYROM.
The Albanian Minister of Foreign Affairs, Ditmir Bushati comments this development and explains why Tirana was active in this process. According to him, the Albanian government has a constitutional obligation which relates to the protection and advancement of the rights of Albanians regardless of where they live.
"In Macedonia there is exists an Albanian state formation community, which in any case and any circumstances, will need Albania's support, Albania's friendly advices with the aim of advancing these rights", Mr. Bushati says.
Tirana's stance is unchanged: "Respect of the Ohrid Agreement and its application to the letter is not an issue that we can negotiate with counterparts or officials in Macedonia", Bushati says.
Bushati also criticizes Skopje's reaction that Albania is meddling in FYROM's domestic affairs. "There's an unclear stance of Macedonian authorities, not only on this case, but in general, every time the Ohrid Agreement is mentioned by Albania or international institutions and partners. I don't know why Macedonian authorities are put off by the Ohrid Agreement. It is a known fact that the Ohrid Agreement saved Macedonia from the claws of a conflict which would have destructive effects for Macedonia and for the entire region", says Foreign Minister Bushati.
According to him, the tendency to make the rights of Albanians equal to those of Macedonians in FYROM by offering facilities in creating several plants or free economic zone is shortsightedness and it only makes Albanians equal to a community of workers, who may be looking for a job.
"Meanwhile, it is clear for everyone from an ethnic point of view that Macedonia belongs to both Macedonians and Albanians, and also other communities and groups which are considered minorities", Mr. Bushati continues.
"The sooner the necessary conditions are created to recognize this fact publicly, the more bridges of communication there will exist between the two main state formation communities there will be. There will also be a better representation in the main institutions in Macedonia, there will be policies and a more harmonious application of policies, not only economic and social ones, but also political and developing ones and there will be not only more democratic stability for Macedonia, but also better neighboring relations", Bushati suggests. /balkaneu.com/