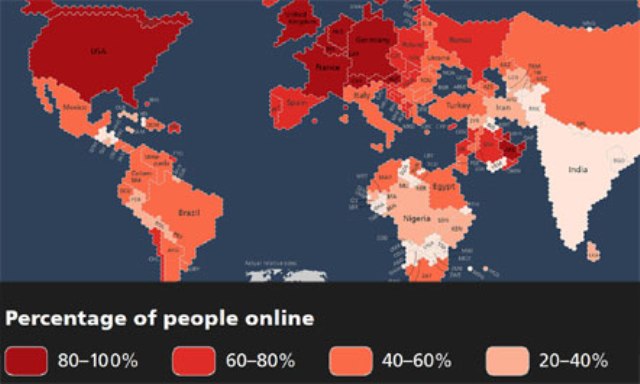 Tirana, 24 July 2015/Independent Balkan News Agency
Albania has more internet users per number of population than other neighboring countries, which are EU members, such as Italy and Greece.
This is the conclusion of a study carried out by the Institute of Internet at the Oxford University.
Experts from this institute have measured the number of internet users for every country, in relation to the population.
According to the study published by Oxford University, Albania is ranked in the countries where  internet is used by 60 to 80% of the population.
Based on the report, Albania leaves behind developed countries such as Italy, Greece and Turkey, where internet users constitute 40 to 60% of the population.
The report states that Albania ranks at the same level as Spain, Portugal and Brazil.
The map has been realized by using 2013 data from the World Bank for internet users and population.
The five main countries with over 80% of population using the internet are in Europe, North America and Oceania.
Mark Graham, one of the researchers, says: "It's important to stress and remember that in spite of the impact that internet has in the daily lives of some people, the majority of people on the planet do not use internet. Even today, a little more than 1/3 of people have internet access". /ibna/