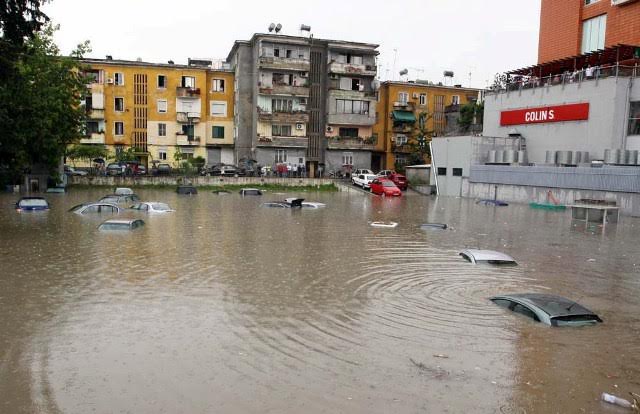 Tirana, 8 March 2016/Independent Balkan News Agency
The Albanian government is drafting a bill which will oblige households to buy annual insurance on their properties.
This bill which is in its final phase, aims at enabling households who are damaged especially by floods, to be compensated through insurance policies.
The bill proposed by the World Bank and the Financial Oversight Authority foresees the establishment of a special scheme of insurance against earthquakes and floods, says the head of the FOA, Pajtim Melani.
"What this bill foresees is the creation of a joint pool of insurance against catastrophes. This pool will foresee the installments and the way the installments will be paid and it will also foresee the way how the compensation will take place", said the head of the FOA Board of Directors, Mr. Melani.
The obligatory payment will not be the same for all households, but it will depend on the risk of the area where the property is.
In order to benefit compensation, natural catastrophes must meet several criteria.
"For earthquakes, there will be compensation if the former measure above 5 in the Richter scale and for floods, there must be 504 hours of constant rains or 21 days", Melani says.
It hasn't yet been decided of the scheme will be entirely state run or if it will be administered by private insurance companies.
"The models are different, but we are discussing the models of the countries of the region. What's certain is that it will be run in the form of a pool. There will not be different practices by different companies. The creation of this pool will be accompanied, according to the proposal of the World Bank, with the creation of a public structure, with a board of directors and a steering committee", Mr. Melani says.
The bill comes a few months after PM Edi Rama criticized the fact that Albanians do not insure their homes and businesses, obliging the state to fund their repair in case of natural catastrophes.
The floods which have been repeated in many areas of the country, caused significant damages which are estimated to be millions of Euros and very few of those who were damaged had secured their properties.
A significant part of the damages were compensated by the government.
The prime minister calls for this situation to come to an end: "It is not possible for governments or municipalities to cope with the flooding… This means that we are entering a new phase, the same that exists in a normal Europe where people must be insured. Businesses first of all must be insured from floods".
Currently in Albania, mandatory insurance only applies to motor vehicles, but not covering natural catastrophes. /ibna/