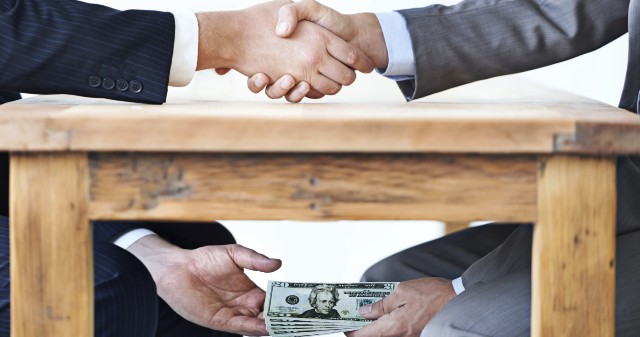 For 2016, Albania was considered as the most corrupt country in the region. Southeast European Leadership for Development and Integrity (SELDI) estimates in a study that it published, that Albania has the highest level of pressure to offer bribes and also of actually offering them.
SELDI is the largest incentive of good governance and anti-corruption of NGOs from Albania, Bosnia and Herzegovina, Bulgaria, Croatia, Kosovo, FYROM, Montenegro, Serbia and Turkey.
In a ranking which includes FYROM, Bosnia, Bulgaria, Kosovo, Montenegro, Serbia, Turkey, Croatia and Albania, Albania is the first in the region in terms of the fact that the citizens are obliged to offer bribes to benefit public services.
Albanian Center for Electronic Research (ACER) has conducted an opinion poll on behalf of SELDI in the framework of the regional system of monitoring corruption.
Fifty percent of respondents in Albania have declared that they have faced pressures as they have been asked to pay bribed. This percentage is much higher in comparison to other countries of the region. Bosnia ranks after Albania. The study suggest that Albania are inclined to be more submissive to the pressure made by state officials that offer public services and are forced to pay money, make gifts or offer other favors.
40% of respondents in Albania have claimed that they have offered at least one type of bribe in 2016.
The study shows that compared to the 2014 report, in 2016, pressure to offer bribes in Albania has increased by 4%. Meanwhile, this indicator has been dropping in Bulgaria, Montenegro and Serbia.
Another concern that the study identifies is that for Albanians, corruption and bribery have become something normal. According to the results of the opinion poll, Albanians have the highest tolerance to corruption, as 54% of respondents consider it acceptable for elected politicians and civil workers, to accept gifts, money or other favors in exchange of solving personal problems.
Dr. Zef Preci, head of the Albanian Center for Economic Research (ACER), SELDI's partner for Albania in the drafting of this report, says that the high level of pressure for corruption in Albania, is an indicator of the high frequency of the purchase of posts in public administration.
Preci is also concerned about the fact that Albanians are the most pessimistic ones about the efficiency of anti-corruption measures. Three in four respondents or 76% of them have declared that they think that corruption could be reduced significantly. /balkaneu.com/