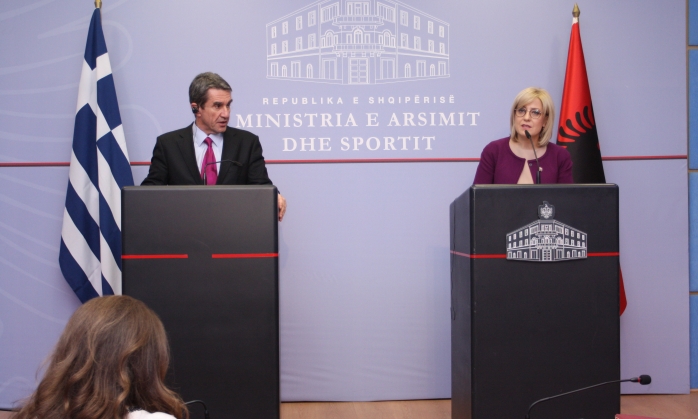 Tirana, November 20, 2014/Independent Balkan News Agency
Albania and Greece have decided to reappoint a joint committee for issues relating to texts that circulate in both countries, but also on other issues concerning education. The heads of education of Albania and Greece met in Tirana in order to make this cooperation concrete (photo).
Minister of Education and Sport, Lindita Nikolla says that the Albanian government has launched an incentive to provide text books for Albanian children to Greece and training of teachers.
"We're starting work for the appointment of a joint commission which will have professionals who will have their say, following a study that they will make to books of history, geography, culture and economy in order to see how much these texts reflect the spirit of UNESCO and Council of Europe", says Lindita Nikolla, minister of Education and Sport in Albania.
The minister added that this is the first time after more than a decade that schools of the minority community are supplied with school texts in the Greek language before the start of the academic year. She said that the Albanian government fulfilled its engagement to improve their quality by holding consults with teachers from these schools and determined to publish text books which were considered by teachers of having a higher quality.
"In order to respect the rights of minorities, children in these minority schools will not be deprived of the right to be educated in the mother tongue. This year to, upon the request of the residents of the villages of Dervican and Frashtan and the support of the local government, we were able to reopen to kindergartens for children who have been repatriated", said the minister of Education.
Meanwhile, Greek minister of Education and Social Affairs, Andreas Loverdos says that in spite of the proposals that both countries can make to the committee for the revision of the texts, good neighboring relations must be preserved. He said that everything that will be done in the domain of education, will be based on consensus.
"It will be the commission the one to deal with every proposal for the revision of concepts. The decisions will be taken when parties agree. Nobody will impose to one another. We cannot tell to the committee members that this issue or that issue is a forbidden one. Both countries enjoy very good relations in the domain of education, which is a difficult domain and we will continue to preserve good relations", said Andreas Loverdos.
On the other hand, Greek minister Loverdos, reiterated the good relations that exist between the two countries by saying that the recent indicator for this was the support that Greece gave to Albania in obtaining the EU candidate status.
"Our universities, our schools, our research centers, archives and libraries and other sectors of education in both countries must come closer to each other and develop cooperation between them", said Mr. Loverdos.
The joint committee for school texts between the two countries or different educational issues has for several years, but it has not functioned since 2007. This commission is reactivated when Greek MPs have demanded the revision of Albanian texts of geography and prior to this, history ones. /ibna/