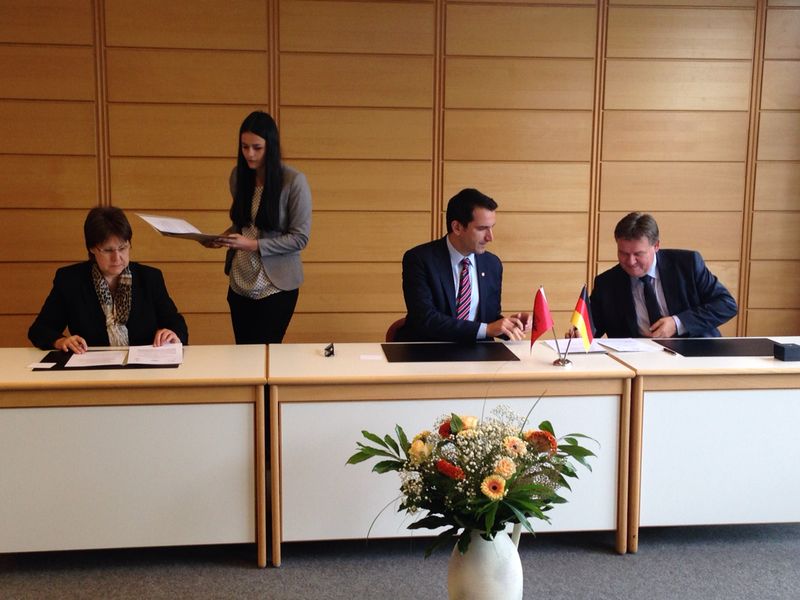 Tirana, June 25, 2013/Independent Balkan News Agency
Germany will help Albania to reform the educational system and professional vocations in the country. Minister of Social Welfare and Youth (MSWY), Erion Veliaj, signed today in Germany (photo) a cooperation agreement with the Institute for Education and Professional Vocation of the Land of Hamburg in the German Office for International Cooperation (GIZ). Based on the agreement, Germany will provide its experience in the reopening of Albanian professional schools.
Albanian government is publicly engaged in following the German model in this domain and believes that it's necessary to take this cooperation in a strategic partnership level. The scope of this agreement is to strengthen the capacities of MSWY and to provide technical support for the reform in education and professional vocation.
"Today, in Germany, 50% of young people attend professional schools and this is one of the reasons why unemployment among young people is one of the lowest one in the EU member countries. Meanwhile, in Albania, only 14-15 of young people choose professional education. Our objective is to take this figure to 40% and this is why Germany is our strategic partner in remodeling education and professional vocation based on the dual German system", says minister Veliaj.
The main points of cooperation between MSWY and the Institute for Education and Professional Vocation of Hamburg will focus on issues of the management of the reorganized network of providers of education and professional vocation, strengthening of the responsible institution for the administration of education and professional vocation, the creation of partnerships between institutions and the inclusion of the private sector in the process of the reform in education and professional vocation, taking as example several selected sectors. Hamburg is one of the most developed lands in Germany, with the highest concentration of industry and professional skills in the country. The labor market in Albania has shown that it requires more and more individuals with professional vocation. Nine out of ten vacancies advertised on a daily basis by the National Job Service and job offices have a professional profile, something that increases the need to improve the quality of professional education and the number of students that attend professional schools.
Institute of Hamburg for Education and Professional Formation (HIBB) has been working since 2007 as an autonomous institution under the dependence of the Senate for Schools and Professional Education of the Land of Hamburg (HIBB). With a budget of 485 million Euros a year, HIBB is responsible for the management, counciling and support for 44 professional public schools in Hamburg but also for the development of the education system and professional vocation in general. /ibna/