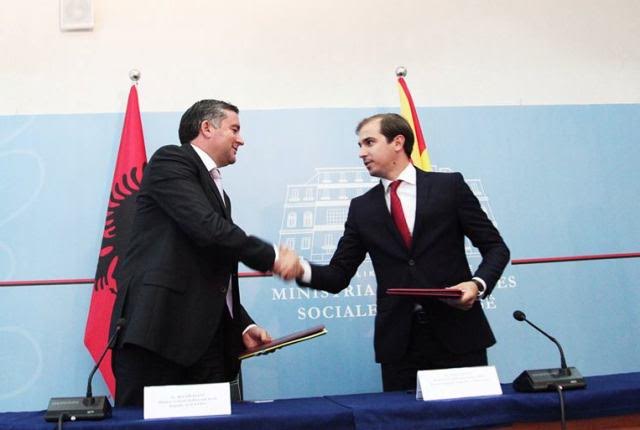 Tirana, 12 July 2016/ Independent Balkan News Agency
By Edison Kurani
Albania and the former Yugoslav Republic of Macedonia have decided to mutually recognize the pension contributions that their citizens pay in the countries where they work. The joint agreement was signed in Tirana between Albanian Minister of Social Welfare and Youth, Blendi Klosi and FYROM's minister of Work and Social Affairs, Dime Spasov.
The two ministers said that the agreement would further encourage the development of the joint labor market and exchanges in the labor market.
Mr. Klosi said that this agreement will serve to hundreds of Albanian citizens who currently work in FYROM and also to tens of Macedonian entrepreneurs who have opened their businesses in Albania.
Klosi explains the effects of this agreement: "We finalized another agreement to recognize seniority years for Albanians who live and work in Macedonia and for Macedonian citizens who work in Albania. This will encourage the exchange of workers, a more flexible labor market and great exchanges between the two countries".
Meanwhile, Dimov said that this is a very important agreement between the two countries which will make it easier for the two countries to exchange workers, to boost communication and cooperation.
Klosi and Dimov also talked about seasonal employment between citizens of both countries, especially in border areas.
The Albanian minister said that he also talked to the minister of the neighboring country about the growth of exchanges in the domain of professional education, youth cooperation and seasonal employment.
"We shared our conviction that through cooperation and communication, we will be able to offer more prosperity to our citizens".
Agreement without a massive effect
Albania has signed several agreements for mutual recognition of seniority years. There have been agreements with Germany, Czech Republic, Austria, Hungary, Turkey and Romania.
But the biggest concern for Albanian families is the lack of agreements where there are truly many migrant workers. For years, left wing and right wing governments say that they are working to sign agreements with Greece and Italy, where there are at least one and a half million Albanian migrant workers or half of the current population that lives in Albania.
Greece and Italy hesitate on accepting such agreement, which would have an impact in the annual budget of these countries.
The consequences are suffered by Albanians and the effects have started: Many migrant worker who went to these countries for a better life, now that they have spent over 25 years there, are coming back to retire in the homeland. They worked and paid contributions for 25 years in these countries, but when they come back, they do not benefit any pension. These were contributions which served no purpose whatsoever, at least up until now. /balkaneu.com/