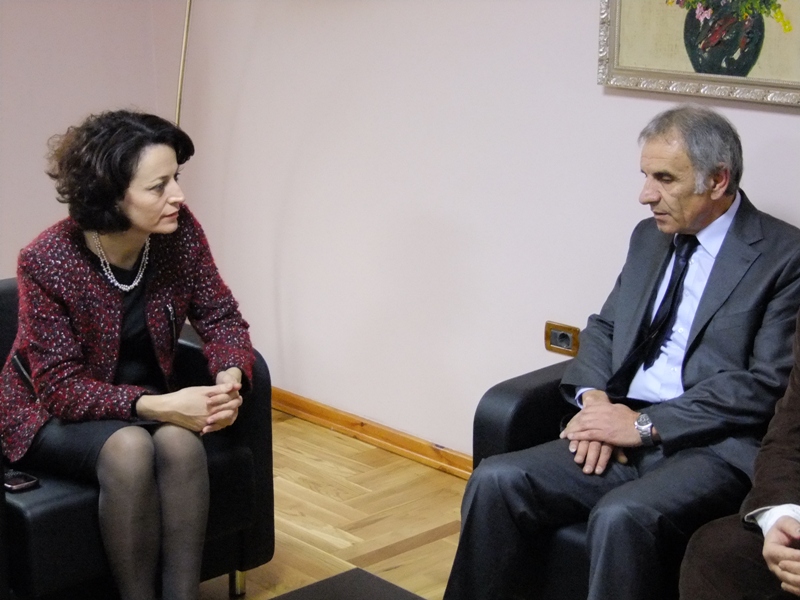 Skopje, February 5, 2014/Balkan Independent News Agency
Tirana and Skopje are negotiating to come up with joint holiday packages, in an attempt to increase revenues from this sector, which is very promising for these two small Balkan countries.
Minister of Urban Development and Tourism, Eglantina Gjermeni has talked with the ambassador of the former Yugoslav Republic of Macedonia in Albania, Stojan Karajanov over the possibilities of cooperation between the two countries in the domain of tourism ahead of the start of the holiday season.
The Macedonian ambassador was very interested to establish bridges of cooperation between the two countries, by inviting Albanian National Agency of Tourism to introduce the Albanian holiday package in a fair in Skopje, in order to promote the great potential that Albania has for tourism.
Mr. Karajanov says that an agreement between the two respective agencies would have an impact on the growth of holiday offers between the two countries.
This year alone, FYR Macedonia exported 500 million Euros for tourism in neighboring countries. This means that the citizens of this country have spent half a billion Euros to spend their holidays in the neighboring countries. One fifth of this amount is estimated to have ended up in Albania.
According to current forecasts from tourist operators in FYR Macedonia, this year, around 200 million Euros are expected to be spent in Albania.
Ambassador Karajanov noted that Macedonian tourists are very happy with the comfort, safety and numerous natural beauties that Albania has to offer.
On her part, minister Gjermeni has praised the Macedonian model for the promotion of tourism through legal incentives.
Gjermeni expressed to ambassador Karajanov her engagement to strengthen cooperation in order to increase the number of tourists. The minister proposed meetings to take place between tourist operators from both countries in order to come out with a joint holiday package, as it's the case with Kosovo.
Both sides agreed that they should soon launch a joint tourist package, which will be formalized through bilateral agreements between ministries and tourism agencies.
For several years, residents of FYR Macedonia have frequently visited Albania, by choosing coastal areas, mainly Durres, for their summer holidays. There are several factors which lead them to choos Albania. First of all, around 30% of the population of FYR Macedonia are Albanian and their first holiday choice is Albania.
Secondly, the cost of holidays  in Albania is lower and beaches are not overpopulated with tourists. /ibna/