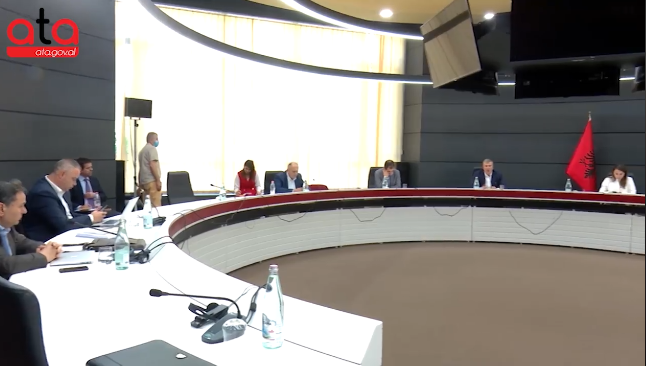 The co-chairman of the Special Commission on Electoral Reforms Damian Gjiknuri said on Friday that "the final draft for the Electoral Reform will be completed by Monday".
Speaking to the media after the regular meeting of the Political Council, Gjinkuri said that "we have agreed on most of the amendments related to financial issues in the election campaign and the role of the media in the election campaign".
"There are 2-3 issues that are being addressed by technical experts and I believe that by Monday we will have all the legal amendments to the new Electoral Code ready, including the creation of the CEC and all the other elements of the Electoral Code", Gjinkuri said.
As he says, "these amendments reflect all elements of the agreement, including the issues agreed with the Democratic Party as well as the extra-parliamentary and parliamentary opposition in this Political Council".
Gjinkuri also noted that "on Monday or Tuesday at the latest, I will formally submit the plan to the Special Commission on Electoral Reforms".
In the meantime, he added, we are also discussing some mechanisms for the selection process of the members of the committee so that it is an open plan, which will of course reflect the concerns expressed by the extra-parliamentary opposition, but all this must be understood in the last 2-3 days.
Gjinkuri said that "experts were tasked with finalizing the plan by Monday, including legal measures such as amendments to the Code of Procedure, amendments to the State Police Act, the complaint law".
He said that "the parties involved decided to allow political advertising, despite the establishment of the Council of Europe, but we believe that the time has not come to ban political advertising, which will be part of the Electoral Code".
Regarding the financing of the election campaign, Gjinkuri said that "we agreed that the state budget will be doubled from party funding and the ratio will be 1 to 3, so the budget from private funding will be three times higher than that available from the state budget".
Democratic Party political council spokesman Oerd Bylykbashi said that "today the Political Council discussed the outstanding issues that need to be addressed in the light of the agreement on electoral administration and other issues that complete electoral reform".
"The meeting touched on the problems of the media in the election campaign and the financing of political parties, but what is important part concerns the guarantees agreed on June 5 on the election administration, but also other guarantees such as: biometric identification and the other means that protect the electorate; until those are fully incorporated into the electoral law, in the Electoral Code, the council will continue to work to finalize the technical agreement", he said.
"Until Monday, the Political Council will get its hands on the full document containing the amendments to the Electoral Code for the final finalization of the June 5 agreement", he said. /ibna