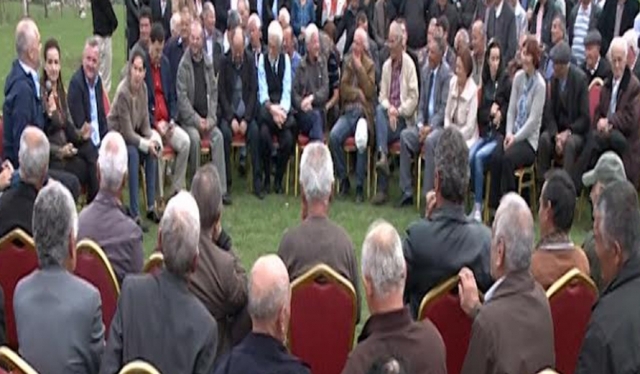 Albania is the only country in Europe which doesn't yet have a land market and it is also one of the few countries in the world with such a handicap. Thus, in Albania, people work the land based on a usage act. But they cannot inherit it, sell it or use it as collateral for a loan.
They cannot even use it as a property title to obtain financial support for projects which are funded by the state or different organizations, especially the EU, which has programs that aim at supporting agriculture and which will grow in number with the launch of accession talks.
But neither the EU, nor any other organization cannot pay even one euro for funding projects, if farmers do not have a property title on their land.
Nevertheless, starting from 1991, the law recognized farmers the right to become owners of their land.
This absurd situation exists since democracy returned in the country 25 years ago. And all of this time was a big waste of time, preventing the development of the countryside, agriculture, farming and the country in general.
Recently, the left wing government says that serious efforts are being made to change the situation. PM Edi Rama admits that the situation is serious and says that the reform to change this has started. The first step was the territorial reform. Now, there are no longer 400 municipalities and communes, but only 61 municipalities.
Rama says that municipalities today are strongly committed to help people who live in villages and farming families to obtain their property title.
Until this process ends, no time should be wasted. Therefore, Rama says that the government has managed to confirm a new financing channel for rural enterprises, through an agreement with the European Bank for Reconstruction and Development and 6 private banks in Albania, where the state guarantees loans for farmers.
Thus, if up until today farmers could not go to banks due to the collateral that they are asked, the National Guarantee Fund solves this gridlock, meaning that the state becomes a guarantor of the loans that farmers obtain.
The cost of this project for the government is 300 million euros in the next three years. But they may even go unused given that skepticism among farmers is high.
Meanwhile, another problem relates to the abuse with court rulings. There are many cases where lands have ended up in the hands of unlawful owners, corrupting judges and proceeding with forged documents.
Mr. Rama has a plan to solve this serious concern too: "Yes, all sorts of things have been done with court rulings. Although they are unfair, they're still court rulings. We have started a process of undoing them. We have a pilot project for all the coast of Vlora, where there are thousands of hectares which have been unfairly occupied, but this is a part of all the costs which we are paying for these 20 and odd years without a state". /IBNA/