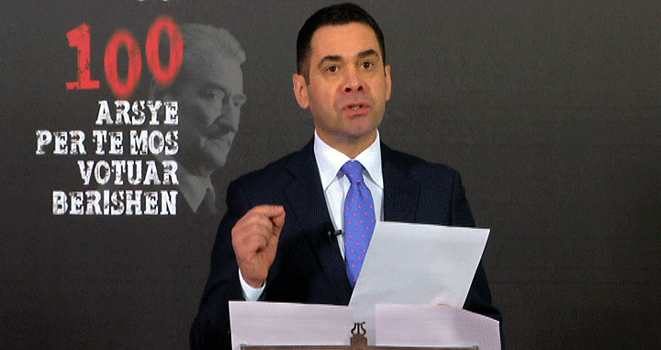 IBNA Op-Ed/ "It's not only the fact that Albania has dropped what worries us. What's important is that out of the 10 indicators of "Doing Business" report, Albania has performed poorly in 6 of them"
By Arben Ahmetaj
Minister of Economic Development, Commerce and Enterprise of Albania
Two days ago, the World Bank has published its report "Doing Business".
Like we all expected, Albania once again has dropped in the world ranking of this prestigious publication. Based on the data collected until May 2013, the team of "Doing Business" has classified Albania in the 90th position out of 189 countries which are ranked in this report.
The country has dropped 5 places compared to a year ago.
In fact, if we see the trend of the second mandate of the last government, Albania has deteriorated every year in relation to the facilities of doing business.
In other words, according to this prestigious report, it's easier to do business almost everywhere except Albania.
It's not only the fact that Albania has dropped what worries us. What's important is that out of the 10 indicators of "Doing Business" report, Albania has performed poorly in 6 of them.
Amongst these 6 indicators, we can mention the facility of being issued a construction permit, where we are ranked last amongst 189 countries of the world, or as far as securing power supply, where Albania is ranked 158th in the world, leaving behind countries such as Syria, Libya or Zimbabwe.
This government is also worried by the deterioration in the number of contracts which are not complied with, a deterioration of 28 positions (from the 96th position to the 128th position), which more than anything else shows that total failure of the last government to secure lawfulness for businesses.
If we take under consideration the latest analysis of the International Monetary Fund, the last government results to be the reason for this deterioration.
By not paying for the contracts and hired services, the former government not only left Albanian people with a debt of 600 million USD, but as this report shows, it has also made potential investors leave as a result of corruptive and irresponsible practices.
If we summarize the report, it's clear that the last government has seriously threatened the trust of the business community and has gone even further, by becoming the main cause of the economic problems that the business in the country is going through.
The new government has been elected to immediately address this critical situation, therefore this report and all other international reports will be carefully examined in order to improve the image of the country and the relations with the business community.
The new government had predicted this situation, therefore it will study this report in order to immediately come out with the measures that must be taken in order to improve the indicators of doing business in Albania.
Today, the message that international investors and businesses must receive from Albania is that the new government will support every step and that disgraceful practices of not paying for contracts and corruptive practices have ended once and for all and that the law will rule in Albania.
Note: The stances taken by the author do not represent the editorial policy of Independent Balkan News Agency