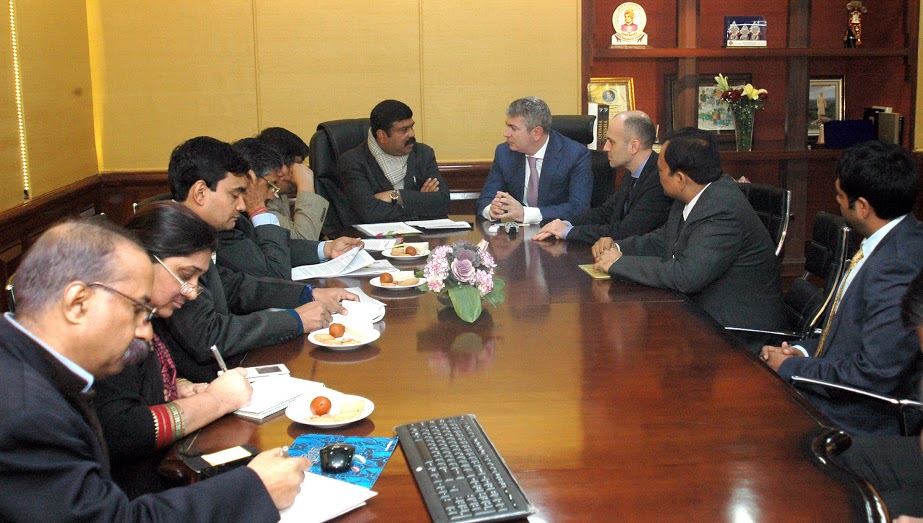 Tirana, January 22, 2015/Independent Balkan News Agency
Albanian Energy and Industry Minister, Damian Gjiknuri held an official visit to India, in an attempt to exploit possibilities of cooperation between the two countries.
In New Dehli, Gjiknuri was received by the Indian Minister of Energy and Oil, Shri Dhermenadra and Minister of State for Foreign Affairs, General V.K Singh.
The participants of this meeting discussed on issues of cooperation between the two countries in the domain of economic domain, the numerous opportunities that Albania offers to have the presence of Indian investments and the possible schemes for the funding of Indian projects.
Mr. Gjiknuri stopped on the potentials of the country for investments in the domain of research of oil and gas.
During this visit, minister Giknuri also had a meeting with representatives of the Associated Chambers of Commerce and Industry of India (ASSOCHAM), which saw the participation of the most important companies in the domain of energy and industry.
Mr. Gjiknuri said after the meeting that he informed investors about the opportunities that Albania offers in different sectors of the economy and the measures that the Albanian government is taking to offer a favorable environment for the growth of investments.
Meetings held with representatives of prominent companies in the domain of energy and oil, such as "Tata Power" and state owned oil company, ONGC, discussed issues concerning energy.
The minister said that he was acquainted with the achievements of India in the domain of electric energy, especially with the Indian experience in reducing network losses. He said that this reduction had come as a result of the combination of state and managerial measures and investments, by yielding a significant result. Mr. Gjiknuri said that these are models that can be successfully applied in Albania. /ibna/