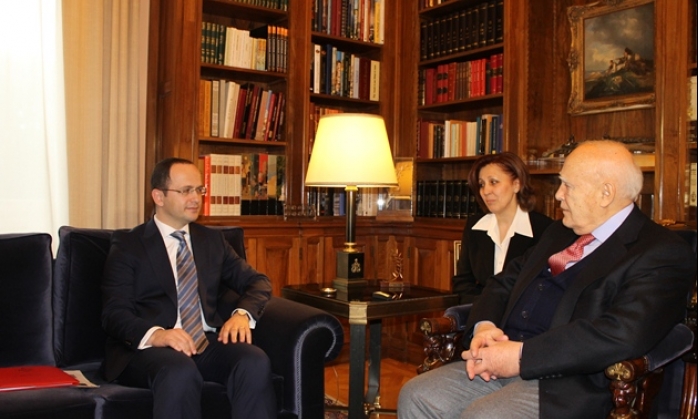 Tirana, February 6, 2013/Balkan Independent News Agency
Albanian authorities say that the problems that exist for years with Greece such as the war law, properties of the Tcham community and toponyms, must be solved bearing in mind the fact that both countries are NATO member countries.
Albanian Minister of Foreign Affairs, Mr. Ditmir Bushati, who has started an official visit to Greece, was received on Wednesday in a special meeting by the President of the Republic of Greece, Mr. Carolos Papoulias.
Foreign Ministry issued a press statement where it informs that "minister Bushati said that, as two NATO members, the two countries must tackle pending issues based on the new reality in the region, in the framework of good neighborly relations and European affiliation of both countries." Minister Bushati said that: "We're ready to talk in order to find concrete solutions for unaddressed issues which have a direct impact on the life of the citizens and which are in the best interest of both countries."
During this meeting (photo), both interlocutors said that parties were committed to move forward in bilateral relations. President Papoulias said that "Albanian-Greek bilateral relations are of a crucial importance for the region". At the same time, president Papoulias also expressed the support of Greece in Albania's path toward EU integration.
In the meeting with Papoulias, Bushati has also confessed to the president something from his personal life relating to Greece.
"I have a special relation with Greece because I studied and lived here. Besides the fact that I attended a European program at 'Kapodistriako' University, I also lived for a year in Greece", said Bushati.
Minister Bushati is in Greece in the framework of important bilateral activities: 16th Meeting of the Council of Foreign Ministers of the Adriatic-Ionian Incentive and EU Strategy for the Adriatic and Ionian Region (EUSAIR).
Today (06.02), minister Bushati will hold meetings with the Greek prime minister, Mr. Andonis Samaras and deputy prime minister and foreign minister, Mr. Evangelos Venizelos. /ibna/