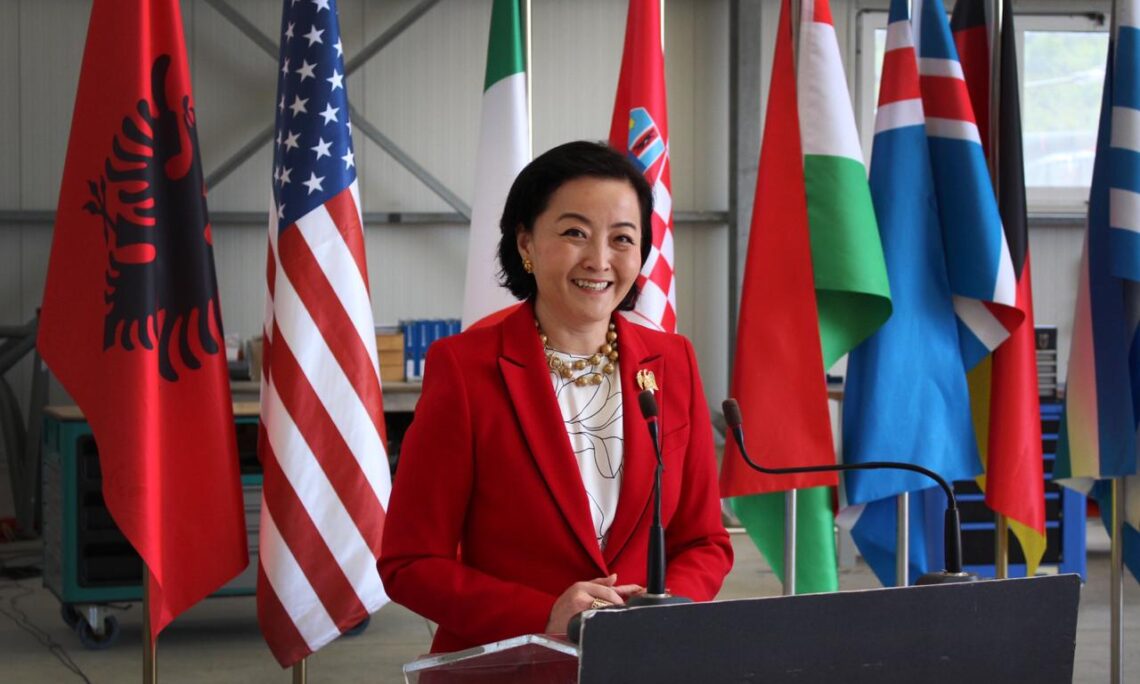 US Ambassador to Tirana Yuri Kim said yesterday that "Skavica, if completed, will be the largest US contract in Albania".
"Two weeks ago, Undersecretary of State Keith Krach was here to sign a historic Memorandum of Economic Cooperation. This is the first time that the United States and Albania have done this and, more than that, in the same room, the Bechtel Construction Company signed a MoU with the Albanian government to proceed with the construction of a huge hydroelectric power plant in Skavica. If completed, it will be the largest US contract in Albania", Kim said in a televised interview.
Regarding the amendments to the Electoral Code, Kim noted that "the statement issued by the US Embassy was very clear; the method used to reach the June 5 agreement was solid, and should be used as a model for future agreements. At the same time, we can not deny the power of Parliament to pass legislation. When it comes to whether or not the June 5 Agreement was violated, different people have different views. Even my opinion on this is very clear. What happened after June 5 was outside the June 5 Agreement, but I do not see it as a violation of the treaty".
She went on to add, "I think it is very disappointing that the second part of the electoral reform was not achieved in the same way, because the first part, that of the June 5 Agreement, went well. And it should have been repeated. I think it is unfortunate that the main opposition was not present in Parliament and I think it underscores the responsibility everyone bears to remain committed in this process".
Focusing on justice reform, Kim said she did not think it had been halted.
"Four years and four months is a long time, but I must say that progress has been made. Four years and four months ago, laws were drafted with the unanimous support of all parties, right? Since then, courts have been set up, judges and prosecutors have been hired, and judges and prosecutors are subject to scrutiny. In recent months, in recent weeks, the Constitutional Court has been moving forward as well. There are now candidates for the two vacancies. So, I think, to say we're stuck is a wrong way to frame it. I think there are people who want to believe we're stuck, who want to get us stuck, but that doesn't mean we're actually stuck", Kim said.
"It is also true that we are at a critical juncture. Those who oppose justice reform are stepping up their efforts, and I think all of us who are supporting reform, including the United States, your European friends, the Albanian people, it is time that we persist and push hard", she said.
Regarding the investigation process, Kim said, "the number of judges and prosecutors found corrupt was much higher than expected. So far, over 60% have left the system. I think the School of Judges is working hard to produce more judges and prosecutors. I also believe that the judges and prosecutors who have passed the audit are already ahead to do more, I think we are moving forward. Once again, it is not easy, it is not fast, it is not perfect, but we are moving forward."
Referring to the SPAK investigations, Kim stressed that, "for a long time, the powerful people in Albania operated with impunity. This time it is coming to an end. This means that in recent months, we have seen the SPAK indicting high-level cases".
Regarding the specific results of these investigations by the SPAK, Kim said, "I think people have a right to be disappointed. I said earlier that 'four years and four months' is a long time, but in recent weeks and months we have seen cases that have been identified, which are being prosecuted and I think we will see some results".
Referring to the National Bureau of Investigation, Kim said that not only do we support the SPAK and the OGE or the special prosecutor's office, but we also investing money to show our support. /ibna