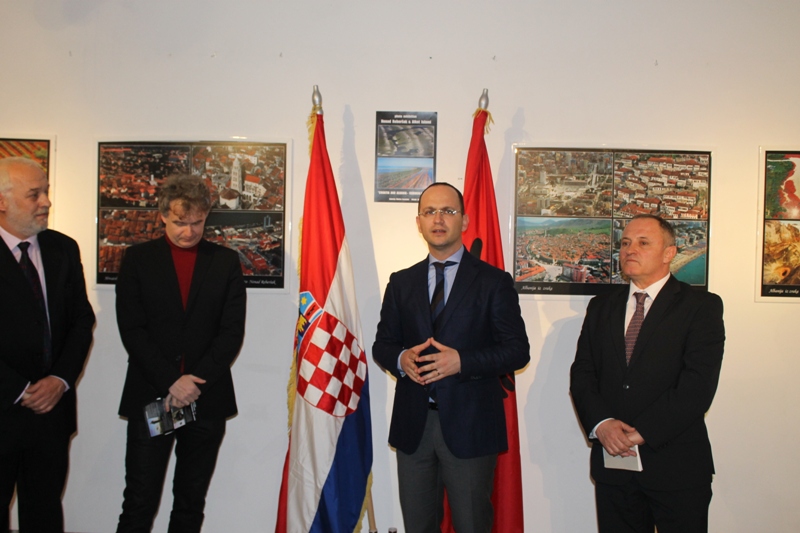 Tirana, March 21, 2014/Independent Balkan News Agency
"Albania-Croatia: a joint future" is the name of the photo exhibition displayed in Zagreb in an effort to bring the two countries closer to each other.
The photos displayed in the exhibition by Alket Islami and Nenad Rebersak, bring Albania and Croatia closer to the public as two attractive countries in the Mediterranean.
Alket Islami is one of the few professional photographers in Albania who shoots photo from the air. He has managed to shoot rare images of the Albanian scenery throughout the entire territory.
Present in the inauguration of the photo exhibition (photo) was also the Albanian Foreign Minister, Ditmir Bushati.
Bushati praised the excellent bilateral relations and said: "The message of this photo exhibition-Albania/Croatia, a joint future-is at the same time the main message of my visit to Croatia".
Speaking for IBNA today, Alket Islami said that in this exhibition, he has displayed around 40 photos, all taken from air. The photos have covered the best images of Albania and those with an ancient history.
"We have chosen mountains, the Riviera and alps, without ignoring cultural heritage. The photos are dominated by images from the Alps, Valbona, Jezerca, the valleys of the country, Divjaka, Gjirokastra, Dhermi and of course, Butrit, but also several photos from Tirana. /ibna/