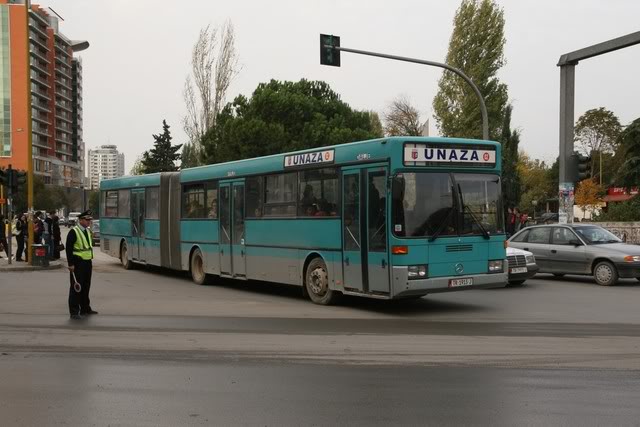 IBNA Special Report/"We may have the cheapest public transport in the world, but is it perhaps because it almost doesn't exist?"
Tirana, September 8, 2014/Independent Balkan News Agency
By Edison Kurani
Albania is ranked after South Africa and Malaysia as far as the cheap cost of public transport is concerned, suggests a study conducted by the GoEuro Institute of Studies". But, how real is this and how is the situation of transport services and their quality. Follow this IBNA's report which confronts facts encountered every day
Is there consolidated public transport in Albania?
If we visit neighboring Italy and Greece, or Montenegro, or even Skopje, which is closer, one of the most routine things that functions as a Swiss watch, is public transport.
Urban bus lines, interurban ones, trams, subways, cabs, etc., are present during the entire day with intensive timetables and reduced timetables during the night.
Public transport in Albania is completely different. The country has no subways and no trams. With the advent of democracy, urban buses that operated during the communist regime, were removed and in the capital, they were replaced by bans. In the recent years, buses have been reitronduced in the capital and few other cities.
Quality of service leaves much to desire
In Tirana, bus stations are chaotic and the majority of them are not very visible. Timetables are never known and bus movements are very irritating. Drivers, who are instructed by private companies contracted by the municipality, have a very slow pace of movement. Many citizens complain about this. Air conditioning in the majority of buses doesn't exist or where it exists, they are not turned on. Only a few lines have new buses, while the center is linked with the suburbs through buses which don't meet standards. Buses are often full and inside of them, thefts are frequent.
Nevertheless, this is the only alternative offered to the citizens for public transport. Vans have been removed with a government decisions, subways do not exists and cabs are expensive.
Is the price low?
In order to travel by bus in Tirana (in those few kilometers of road which are covered), a ticket costs 30 ALL or 23 Euro cent. The return is 23 other Euro cent. If this itinerary is made two or three times a day, the price also doubles or triples.
International practices speak differently
In different Italian cities and other countries, a ticket costs between 80 Euro cent and 1.2 Euros. It's valid for all the city lines, including buses and subways, for 90 minutes of movement without restriction. Of course, there are plenty of other options, such as disposable tickets, daily tickets, weekly, monthly and annual tickets. Of course, they are valid not only for one bus line, but many.
Air and sea transport, in dire conditions
When Albania was a communist country, there was only one civil airport in Tirana and several other civil and military airports. Since 1990, the one in the capital has been the only one to operate. A new airport was built in Kukes, but it was never made operational. There are also other airports in Gjirokaster, Vlora, Lezha, etc, but which are not operational.
The foreign company which will has been given Rinas airport for a period of 30 years, has the monopoly of civil flights in Albania. This is an unacceptable and penalizing situation for Albanians and tourists in the world and it happens at a time when neighboring Greece has airports even in smaller cities which offer international flights.
Besides local flights and air flights between cities of Albania and neighboring countries and Europe, another concern relates to the price. Albanians and foreigners who arrive in Albania, face high prices, as airport and port taxes are some of the highest.
Passengers were also penalized for several years, as flights were the monopoly of one or two companies. They applied almost the same prices, by offering miserable services and delays in flights.
As far as national sea transport is concerned, it doesn't exist. No sea lines function, although half of Albania is near the seaside.
Once upon a time were the trains
The communist regime had many bad things, but it cared more about common people. Railway transport in the country was introduced for the first time during the communist regime. Prices were low and railway covered most of the country. The speed was very low. Although the distance from Tirana to Elbasan was 60 km, it took 4.5 hours to travel by train between these two cities.
After 1990, railways went into collapse. The government never encouraged people to use trains, thus leading them to abandon them. The majority of lines were shut down and today they only exist with several destroyed wagons, which run on a restricted timetable between Tirana and Durres, once or twice a day.
"GoEuro" study, where are the highest and lowest prices
"GoEuro" says that the cheapest public transport exists in South Africa, Albania and Malaysia. Thailand and Ukraine rank fourth and fifth respectively.
According to "GoEuro" Institute for Studies, the most expensive prices for public transport are in Switzerland, Austria and Belgium. As far as railway transport is concerned, Denmark has the most expensive prices. There, the price of an average ticket is 30.4 Euros per 100 km. Meanwhile, Switzerland and Austria follow with 29.1 and 24,4 Euros.
Passengers in Belgium pay an average of 17 Euros per 100 km.
Holland, Austria and Norway have the most expensive bus transport, where the average ticket price (per 100 km) is 21.7 Euros, 17.8 and 16.4 Euros respectively. Switzerland and Australia are the most expensive ones.
Belgium is ranked sixth with an average price of 11.8 Euros per 100 km, followed by Egypt. Egypt is followed by Ukraine with 1.4 Euros per 100 km, further followed by Thailand and South Africa. The same cost is also estimated for Albania.
Nevertheless, the authors of the study say that their study has several restrictions, because it only covers 51 countries. Meanwhile, the index of prices covers all sorts of traffic: buses, trains and airplanes.
"GoEuro" says that this study doesn't take into consideration the purchasing power of people and the quality of traffic.
"The countries with the highest ticket prices in the transport of passengers also have the best quality of service", say the authors of this study. /ibna/