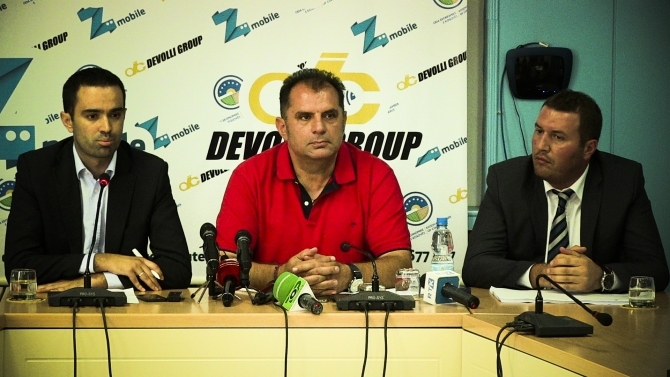 Pristina, July 30, 2014/Independent Balkan News Agency
By Elton Tota
Besides declarations filled with folk like patriotism, in practice, economic relations between Kosovo and Albania are not that good.
The Albanian state is imposing a blockade to Kosovar products and subject to this are pharmaceutical products too. This means that the CEFTA free trade agreement has been breached.
This was said by representatives of the Economic Chamber of Kosovo (ECK) and American Chamber in Kosovo, on Wednesday in a news conference which talked about the difficulties that pharmaceutical producer "Trepharm", is experiencing in selling its products in Albania.
The participants of this conference said that if a solution is not found, then reciprocity measures will apply.
Safet Gerxhaliu, head of ECK said that economic relations between Kosovo and Albania have been idolized through patriotism rather than through a substantial collaboration.
He said that in order for Kosovar products to enter Albania, the producer label must be changed.
Gerxhaliu said that pharmaceutical products are also facing such fate.
"What worries us is that there's a three year period of wait for these products to be licensed and enter the market of Albania".
"Perhaps it's the moment to act like they're acting. If Kosovo has licensed 65 Albanian products and Kosovar products have not found a market in Albania, then maybe time has come to address to the Ministry of Health in order for it to apply the same measures for the products coming from Albania", said Gerxhaliu.
Meanwhile, Arian Zeka from the American Chamber of Kosovo said that businesses associations have demanded from the two Albanian governments to appoint work groups for the removal of these barriers.
According to him, the joint meetings between the two governments are more of a show off than a way to address concrete issues.
Zeka said that Albania is breaching the CEFTA agreement.
Meanwhile, Mergim Prishtina, executive director at "Trepharm" said that although their products meet all the standards, they are being refused by Albania.
He said that they've been addressing to Albanian institutions for two years in a row, but they have been refused without any motives.
"The last refusal came last week and it was absurd. We demand an urgent solution from the Albanian state", declared he.
Pristina said that 30 "Trepharm" products want to be present in the Albanian market and 8 of them have been refused. /ibna/