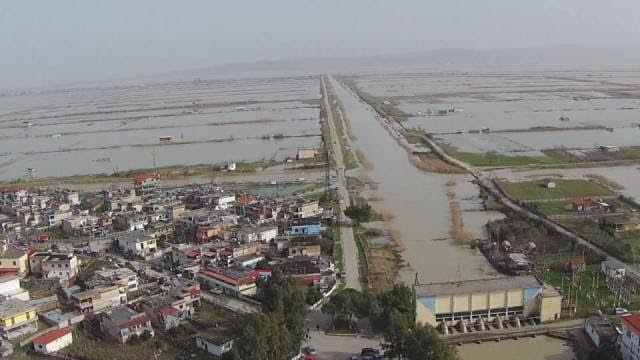 Tirana, 15 March 2016/Independent Balkan News Agency
Albania is considered to be a country with big natural risks, especially risks relating to floods which have started to happen quite often.
In February 2015 there were around 3 thousand hectares of land and 600 homes flooded in the western and southwestern part of the country.
These floods affected around 42 thousand people, while 600 families had to be evacuated.
The damages are estimated to be millions of euros every year. But to this bill is also added the need to bring properties back to their previous state.
Authorities say that this is a serious burden for the Albanian economy.
In the World Day of Rivers, Albanian authorities have issued the alarm. The head of the National Agency of Protected Areas, Zamir Dedej said during an activity held on this occasion, that river beds and their estuaries have been seriously damaged.
"From the data that we have, the most damaged rivers are the part of Erzen and Ishmi, basins that penetrate in the most populated area in the country, Tirana and Durres. It goes without saying that there's also a big concentration of wastes here. Meanwhile, we have polluted rivers such as Gjanica, from oil. Then we have rivers such as Mat and other rivers which have been damaged as a result of their exploitation for construction materials and we also have rivers damaged as a result of the construction of hydro power plants. We are analyzing to find out which is the most damaged part of the rivers", Mr. Dedej said.
According to him, the brutal intervention on rivers has brought an increase in damages year after year, especially in flooding lands and inhabited areas.
"Nature is punishing us for that uncontrolled intervention that we have often made. The floods relate to the construction of damns or the construction of the river basin, which increases speed and the erosion effect. This also relates to the damages that we have made on rivers. If there is great erosion, this is reflected in that part of the lowlands where rivers become fast and cause floods. We must also bear in mind the fact that the floods also take place as a result of constructions made in inappropriate locations", said the Head of the National Agency of Protected Areas, Zamir Dedej. /ibna/