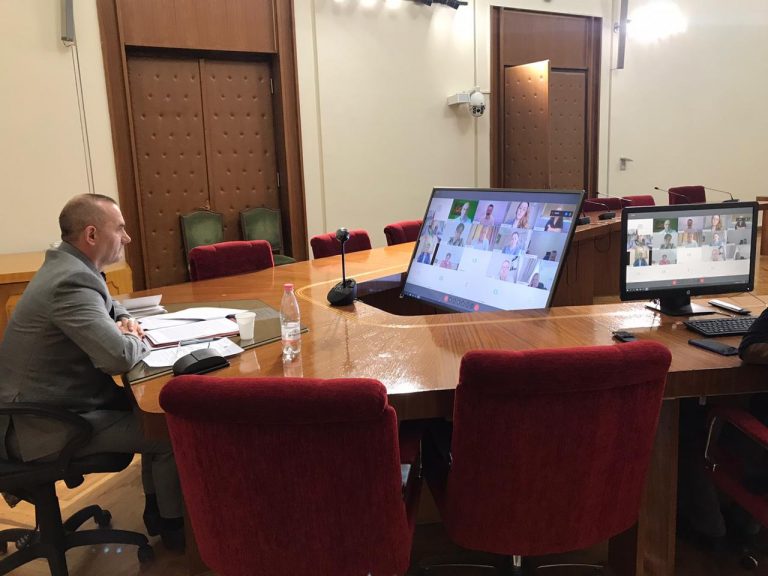 During a regular virtual meeting chaired by Ulsi Manja, the Parliamentary Committee on Legal Affairs, Public Administration and Human Rights discussed the bill to exclude from the appointment, the election in governing bodies and public, state, and political divisions former officials who held positions during the period between 28 November 1944 and 08 December 1990.
The bill, which was initiated by 21 members of the parliamentary opposition, was presented by Myslim Murrizi, who briefed the members of the committee on the reasons for the submission of this legal initiative.
As he explained, 30 years after communism and on the basis of two successive requests from the Council of Europe for international punishment of crimes committed under totalitarian communist regimes, it was time that Albania passed a law that would certainly help us break away from our communist past. Murrizi went on to say that Albanians deserve the guarantee that the new judiciary, established on the basis of Justice Reform, will not comprise former investigators, former prosecutors or former communist judges.
Ruling Socialist Party MP Alket Hyseni provided an overview of the clean-up law in Albania from 1993 to present, as well as international standards in this area under Resolution no. 1096 of 1996 of the Parliamentary Assembly of the Council of Europe "on measures to eliminate the legacy of former communist totalitarian systems".
Referring to the contents, Hyseni argued that that the initiative violates the Constitution, the decisions of the Constitutional Court, the European Convention on Human Rights, as well as the 2009 opinion "Amicus curiae" no. 524 of the European Commission on Democracy, known as the Venice Commission.
After presenting his arguments, Hyseni called for the rejection of the bill in principle and called on the members of the committee to vote against it also in principle.
After the questions and discussions, the committee rejected the aforementioned bill by principle, and the decision will be sent to the full House. /ibna