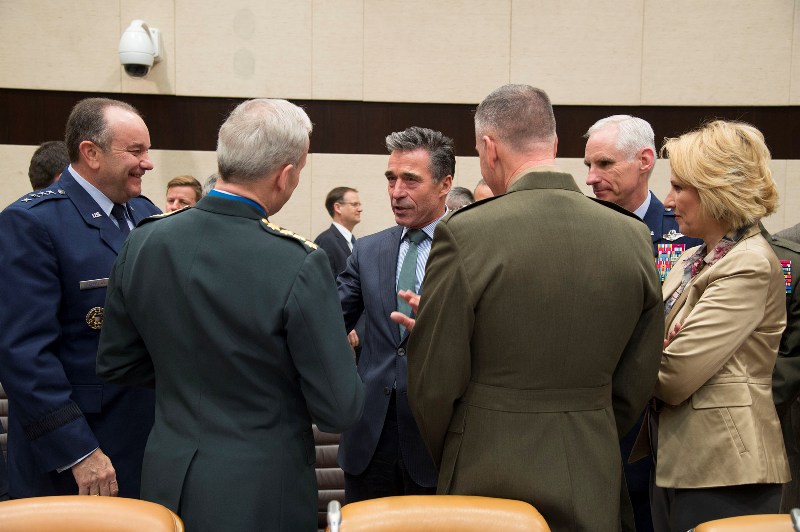 Brussels, February 28, 2014/Independent Balkan News Agency
In the framework of her participation in the meeting of NATO's defense ministers held in the past two days in Brussels, the Albanian Minister of Defense, Mimi Kodheli participated in the USA-Adriatic Charter (A5) Defense Ministerial.
This ministerial (photo) was presided by Mrs. Kodheli, as Albania holds the presidency of this incentive for 2014.
Minister of Defense revealed the priorities that USA-Adriatic Charter will have during the Albanian presidency.
She mentioned the strengthening of regional cooperation to better address the needs and national objectives of member countries; support for NATO's "Open Doors" policy for the accession of other countries of the region; potential engagement in Afghanistan after 2014 in NATO led operations; promotion of Regional Training Centers, etc.
The Minister of Defense also said that it's been a while that Albanian Armed Forces have been engaged and will continue to be engaged in NATO led operations.
Kodheli underlined that regional cooperation must be driven by the "Smart Defense" concept and the use of joint assets in case of emergencies.
The minister considered joint drills as a good means to increase and further strengthen military cooperation in the region and beyond, mentioning the joint drill which will take place in Albania in 2015.
Meanwhile, the ministers of defense once again confirmed the importance of the process of Euro-Atlantic integration in strengthening stability and security in the Southeast European countries.
Special attention in this meeting was paid to Albania, Croatia and USA, as NATO member countries, in terms of the support given to other participating countries of this incentive in the process of integration in the NATO or other regional structures.
Responding to the interest of journalists in Brussels, Kodheli said that Albania chairs the Adriatic Charter and added:
"It's important to share 4 moments with the public: Albania's support for the policy of open doors in relation to neighbors or all of those who aspire to become NATO members; closer cooperation for civil emergencies, which without any doubt, is raised to a higher level after this meeting; the assistance that Albania must give to neighboring countries in the transformation of these countries in their long journey toward NATO accession and what's most important, the growth of operating capacities, which will enable cooperation between NATO led operations and Armed Forces of Montenegro, Macedonia, Bosnia and Herzegovina, Croatia and Albania as part of A5". /ibna/