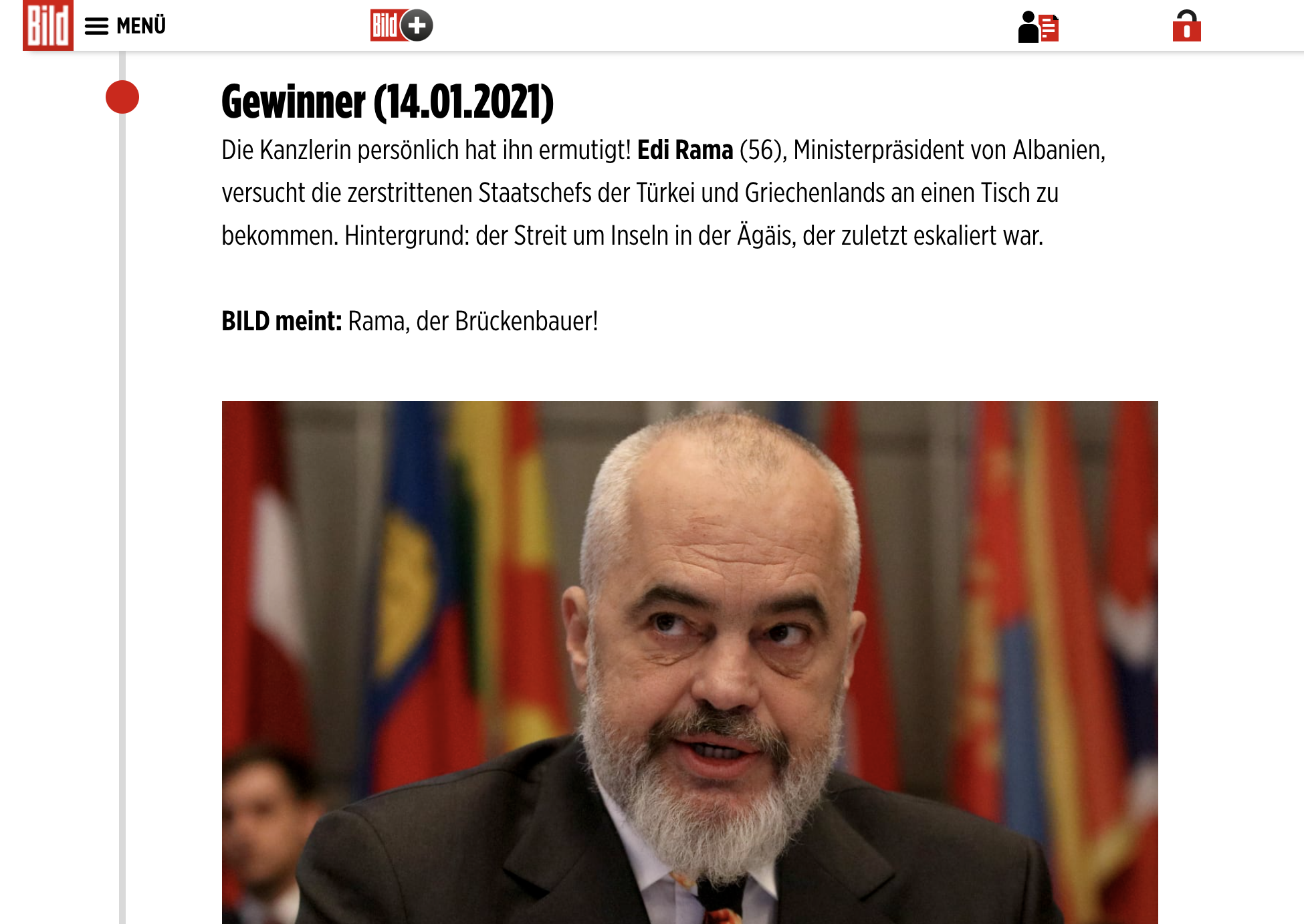 The column of the German newspaper "Bild" "winner and loser" refers to the Albanian Prime Minister Edi Rama, who is characterized as a "winner" for his efforts to bring the leaders of Turkey and Greece to the table.
According to the article, "Chancellor Angela Merkel personally encouraged him! Albania's 56-year-old Prime Minister Edi Rama is trying to sit around a common dialogue table between the warring leaders of Turkey and Greece. Background: the dispute over the Aegean islands that has to do with the dispute over the Aegean islands, which has recently escalated".
Concluding the article, he writes: "Rama the bridge builder".
It is not the first article referring to Edi Rama's mediation in the Greek-Turkish dialogue, as most articles have been published in the Albanian press. However, it is the first reference to Rama's role abroad and especially in Germany and the Bild newspaper, something that confirms Rama's role in the beginning of the Greek-Turkish dialogue.
The Greek Ministry of Foreign Affairs tried to keep up appearances regarding the reports that a meeting between Dendias and Cavusoglu in Albania had been finalized, with Rama's intervention. "Greek Foreign Minister Nikos Dendias has maintained a personal friendly relationship with his Turkish counterpart for a number of years, but their meeting has not been agreed and scheduled for the near future. Of course, Mr. Dendias remains open to the possibility of a meeting with Mr. Cavusoglu, when circumstances allow", diplomatic sources noted.
What makes an impression through leaks and reports is the use of the Albanian Prime Minister as a successful mediator between Greece and Turkey.
According to analysts, Rama was used as a mediator as a joint effort by Greece and Turkey to support the Albanian Prime Minister on the road to the April elections in Albania, with each country having its own reasons.
According to analysts, Greece stands to benefit with the signing of the agreement on the appeal to the Hague for the settlement of the maritime border demarcation, while Turkey wants to strengthen a strong friend in Albania, expanding its influence in the Western Balkans./ibna