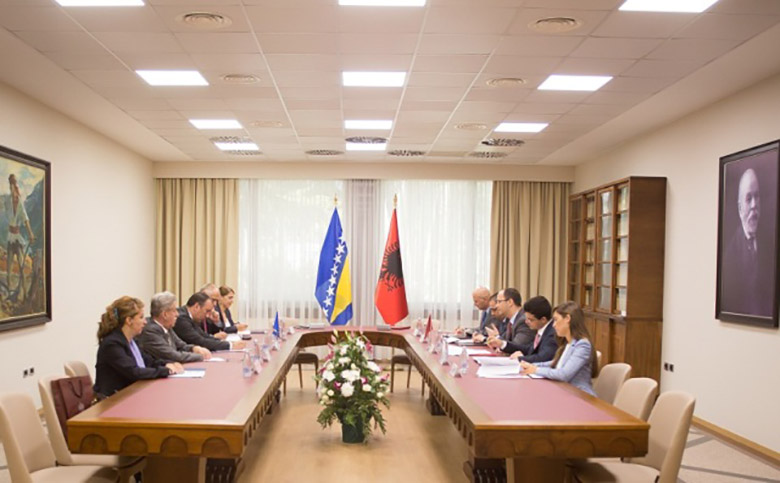 Tirana, 30 July 2015/Independent Balkan News Agency
Albania fully supports the Euro Atlantic integration of Bosnia and Herzegovina and says that the German-British incentive and the entry into force of the Stabilization and Association Agreement are important steps to bring Bosnia and Herzegovina closer to the EU. At the same time, Tirana demands to Sarajevo to recognize Kosovo as an independent state.
Foreign Minister of Albania, Ditmir Bushati confirmed these stances of the government in a meeting held today with the Bosnian Foreign Minister, Igor Cnardak.
During this meeting, the ministers discussed issues of the Euro Atlantic integration of the countries of the region and the latest developments in the framework of the Berlin Process ahead of the next meeting in Vienna.
Bushati said that Albania, as a supporter NATO's policy of open doors, has backed the invitation addressed to Bosnia and Herzegovina to become a NATO member.
Minister Bushati also underlined the all inclusive character of regional organizations and incentives as a necessity in the cohesion of West Balkan and the creation of the necessary synergy to attain joint objectives and aspirations.
In this framework, Bushati demanded from his Bosnian counterpart support for Kosovo's accession in the regional incentive of A-5 and RACVIAC and its recognition as an independent state.
During this visit, the two ministers signed the agreement "Agreement between Council of Ministers of Albania and Council of Ministers of Bosnia and Herzegovina on the movement of the citizens of the respective countries through Identity Cards".
This way, this becomes the fourth country after Kosovo, FYROM and Montenegro where the citizens of these countries move through the use of identity cards. /ibna/