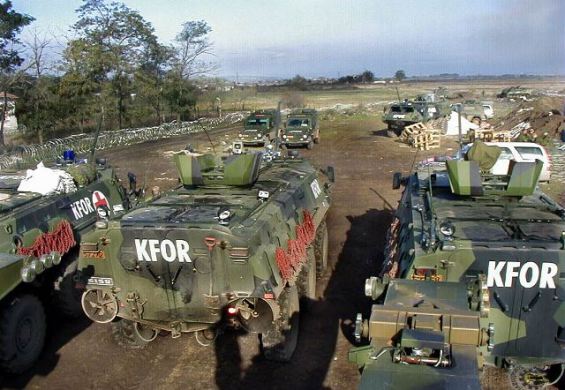 Albanian and Croatian authorities have requested for the role of KFOR in Kosovo to be revisited. Albania's Defence Minister, Mimi Kodheli and her Croatian counterpart, Damir Krsticevic, who is also deputy Prime Minister of Croatia, have requested from the NATO Secretary General, Mr. Jens Stoltenberg "to revisit the Operational Plan of the peacekeeping mission following the latest developments in Kosovo".
In a joint letter, the two ministers "condemn the nationalist rhetoric expressed by the Serb politicians and the concrete actions on the border, to threaten the sovereignty of the Republic of Kosovo and to cause destabilization of security in Western Balkans".
Kodheli and Krsticevic have also supported the transformation of Kosovo Security Forces (FSK) into the Armed Forces of Kosovo (FAK), a process that requires the support of the representatives of Serb minorities in the parliament of Kosovo.
Albanian Minister of Defence Kodheli also spoke yesterday during the NATO ministerial that was held in Brussels. Kodheli asked for the Alliance not to forget the Balkan region "which needs support for the continuation of reforms, including reforms in the domains of security and defence".
"The latest developments in the northern part of Kosovo are an indicator of the fragility of the region. This situation is also being caused by the Serbia's provocative movements and rhetoric and the destructive role of other external players in the region", Kodheli added.
The Albanian minister asked for "NATO to continue and remain committed in Western Balkan and has sent clear messages for the preservation of peace and security".
She said that "KFOR must remain the pillar of security for the stability and sovereignty of Kosovo". /balkaneu.com/