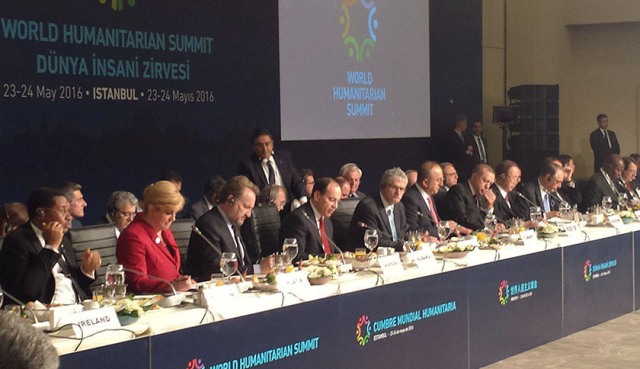 Tirana, 24 May 2016/Independent Balkan News Agency
By Edison Kurani
The World Humanitarian Summit is taking place today in Turkey under the auspices of the United Nations. This summit is discussing the global system of humanitarian aids.
The Turkish President, Recep Tayip Erdogan is the host of this important summit, which sees the participation of the UN Secretary General, Ban Ki Mun and 60 heads of states and governments from all over the world.
The participants backed the Agenda for Humanity and discussed the crises that humanity faces today, the prevention and the ending of conflicts and human suffering, in particular regions and on a global level.
The UN Secretary General, Ban Ki Mun said that the priorities of the summit have been decided following three year consultations with 150 countries. "The five priorities of the agenda of humanity are: the prevention of conflicts, civil protection, help for undeveloped countries, humanitarian aid and investment on humanity", he said.
Albania is represented in this summit by president Bujar Nishani. Nishani addressed the solemn leaders' session dubbed "Political leadership to prevent and end conflicts".
Nishani said that the report of the UN Secretary General which presents the five main responsibilities for humanity, could act as a guideline to move from incentives to concrete actions. Meanwhile, Nishani focused on the sources of crises. "A part of the crises stems from the growth of religious intolerance, violent extremism and discrimination for religious reasons, ethnic reasons, etc", Mr. Nishani said, adding that based on these, Albania is engaged in offering its experience and contribution in this aspect.
Meanwhile, he demanded for the country to lead a special plan which aims at promoting peaceful co-existence.
"Albania has a long experience as far as peaceful co-existence and religious harmony are concerned. It is ready to lead the efforts to promote dialogue and understanding between cultures and civilizations with the aim of promoting and the protection of human rights throughout the world", said the Albanian president.
Meanwhile, Turkish president, Recep Tayip Erdogan said that in order to prevent the suffering in the world, the current conflicts must first put to an end and new conflicts must be prevented.
Mr. Erdogan said that the current world order is not being able to face emerging problems. He criticized the fact that very few countries are bearing the burden of the crises. In this point, Mr. Erdogan appealed that all countries must unite in real efforts to tackle social crises where the most acute one is the refugee crisis. /balkaneu.com/