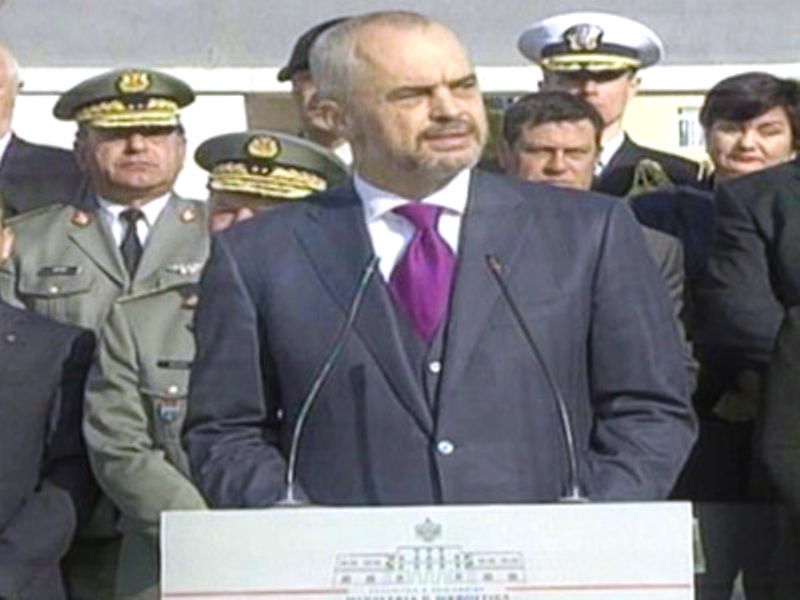 None of the members of the previous government were present in this ceremony. The accession of Albania in the NATO was made in 2009,  after the government of prime minister Sali Berisha officially demanded the accession of the country as a full member. Berisha considered NATO's accession as the most important achievement of the first government term in office
Tirana, March 31, 2014/Independent Balkan News Agency
In an activity (photo) held on the occasion of the 5th anniversary of the accession of Albania in the NATO, prime minister Edi Rama declared on Monday (31.03) that the accession in the Alliance was a historical event of special importance.
The head of the government expressed his gratitude for the members of Armed Forces, state administration and the political class, for which he said that they carried out big reforms which were a criteria for the accession.
We, Albanians carried out a big investment for our national security", said Rama and added: "Special thanks go to the people and government of the USA. The Albanian people will always celebrate dates like this one".
Mr. Rama said that NATO is thanked not only about the accession, but also about its role in the freedom and independence of Kosovo and also for establishing peace in the Balkan as an important contribution of the alliance, adding security.
The prime minister said that national security now enjoys its highest levels possible, by becoming part of the free world. According to him, with the NATO accession, Albania has secured the integrity of its country, but also the protection and integrity of every country of the alliance and everywhere this alliance sees fit to intervene.
"I can be proudly admit that Albania has fulfilled and continues to fulfill every part of its bargain as part of the Alliance", said Rama.
The prime minister also explained the importance of being a NATO member: "We live in a world that is proving everyday how visionary was the idea of the creation of this alliance and how actual is every effort to strengthen it. The latest developments in Ukraine helped us to understand the extraordinary importance of the values and principles that unite us".
Minister of Defense, Mimi Kodheli said that Albania must have and must play an important role as a member of the Alliance. Kodheli also mentioned the contribution of Albania for peace in the world.
None of the members of the previous government were present in this ceremony. The accession of Albania in the NATO was made in 2009,  after the government of prime minister Sali Berisha officially demanded the accession of the country as a full member. Berisha considered NATO's accession as the most important achievement of the first government term in office. /ibna/