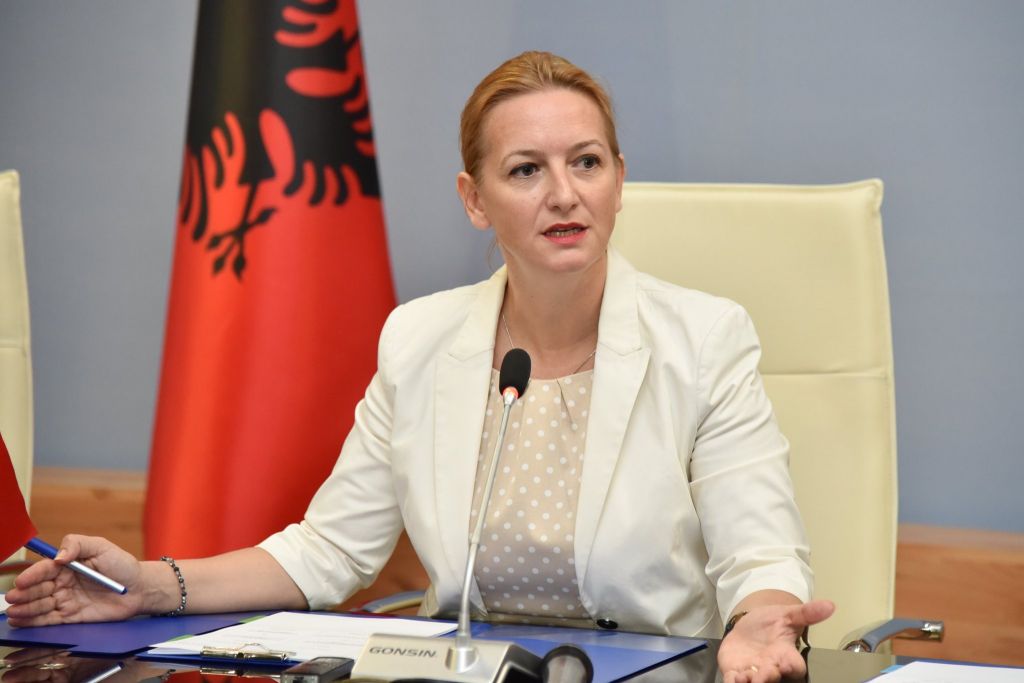 Minister of Finance and Economy Anila Denaj stated yesterday that "the 2021 budget is one of the most ambitious goals for the revival of the economy".
Invited to a TV pannel, Denaj said that "the projected economic growth rate of 5.5% requires that we deal with the pandemic in the current situation and not in an emergency".
"We are dealing with the aftermath of the earthquake and the pandemic. The earthquake has significant costs and the support provided by the Albanian government with the Regulations in 2020 will roll over in 2021. All this money will be allocated to the economy, it will require not only the manpower that allows the reconstruction, but it will also increase consumption", she said.
Denaj said that "we have infrastructure projects, and there exist significant funds for public projects, which will bring increased consumption that we believe will contribute to this economic growth".
"We have two alternatives: either shrink employment and not create opportunities for employment growth, or increase it by providing liquidity, which is our approach. Furthermore, this budget is a promise, as we are talking about a major reconstruction fund, almost 34 billion lek, and 280 million dollars next year. This allows the reconstruction of apartments and schools to a greater extent, while it also allows us to fulfill the promise to return the residents to their apartments", Denaj said.
She added that "we are proud of the salary increase for all doctors, nurses and teachers provided in the 2021 budget".
Denaj, meanwhile, stressed that tax cuts for small businesses as part of the recovery served to allow self-employment and help the sector succeed even amid these pandemic conditions.
On the other hand, Denaj underlined that fiscal sound governance in companies that are more prone to informal information will reduce tax evasion systems.
Regarding budget expenditures, Denaj said that "for current expenditures, we have moved forward with many cuts in these expenditures that are not necessary".
"We are moving forward with a scenario that does not entail an emergency. We do not have an emergency scenario yet, but if this does end up happening, we will reduce the costs, we will also start with the concession contracts and we will launch some projects that are pending kick off, and we will terminate the contracts. In relation to health and management of the situation, we have 6 billion lek. In this field, we have foreseen the procurement of the COVID-19 vaccine and we have a reserve fund in case of an emergency", she said.
Denaj noted that "if an emergency arise, we will have more funds, we can get it from the PPPs, but this scenario does not exist just yet".
"We did not budget it because we would not like to think about the financial closure, not now, but also not in June. It is, therefore, necessary to re-emphasize the need to be careful. But, if this does happen, it will be very difficult for businesses. Will we reduce costs, will we block some public works, will we negotiate PPPs, standing by businesses, by families. Household consumption will suffer more. It will be fatal to recover after a second closure", Denaj said.
She stressed that "at the moment, we reopened the economy on May 18; we did not talk about aid packages, but we have other means that we have implemented during this year, such as programs to promote employment".
Speaking about the reconstruction budget, Denaj said that "it worked very well in terms of procedures and the disbursements of these funds will take place in the November-December period".
"Let's not forget that this is a transferable capital, it does not burn at the end of the year. The funds of the donors in the total amount of 300 million euros have been coordinated and the donors themselves have chosen which infrastructure they will cover. Loans need time to be traded. It takes a year or even a year and a half, so we could not wait until all the loans are negotiated for the reconstruction to commence", said Denaj. /ibna