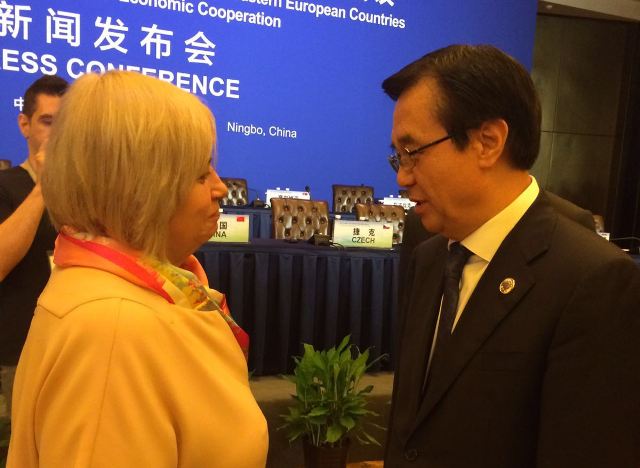 Albania becomes part of the 16+1 Incentive which includes China and Central and Eastern European countries. It supports the 16+1 Incentive and the framework that this incentive has created in order to boost cooperation between the countries. Minister Ekonomi: We pay lots of attention to this Incentive, as it further strengthens bilateral relations between China and Albania
Tirana, 10 June 2016/Independent Balkan News Agency
By Edison Kurani
Ministers of Economy and Commerce of China and 16 countries of Central and Eastern Europe, discussed in the second Ministerial held in the city of Ningbo on new points of contact and to expand the domains of cooperation.
The declaration agreed by the 16+1 format is not a political one, but boosts economic and commercial cooperation, as a priority between the countries of Central and East Europe and China.
All 16 countries of Central and Eastern Europe and China agreed on the importance of cooperation for industrial restructuring and to encourage the improvement of infrastructure.
The sides agreed that this is the right moment to encourage the development of "E-commerce" industrial parks.
This declaration also paid special attention to sea and road links between China and the countries of East and Southern Europe, an incentive undertaken by president of China Xi Jinping.
The sides also welcomed the creation of investment funds in this cooperation.
***
Albanian minister of Economic Development, Commerce and Tourism, Milva Ekonomi talks about the importance and added value that cooperation between Albania and China takes.
"In spite of the significant growth of commercial exchanges between the two countries, Albania believes that there is lots of room for a bigger cooperation in strategic projects such as the ones in infrastructure, energy and industry, including agriculture and especially tourism", Ekonomi says.
With the strategic position that Albania has, – she continues, – stable financial institutions, attractive policies that favor foreign investments, my country offers excellent opportunities for Chinese investors. The historical relations of friendship between the two countries could turn into an excellent commercial cooperation".
***
For Mr. Ekonomi, the incentive proposed by the Chinese government on "Cooperation between China and Countries of Central and Eastern Europe" is a new and important instrument, which further enriches cooperation.
"The domains of cooperation in the framework of this Incentive are in the same line with Albania's current priorities. We have all the possibilities to offer and enable cooperation and concrete benefits in the domain of energy, infrastructure, transport, the industry of extraction and processing of minerals, agriculture, economic zones, education, culture, etc", Ekonomi says.
As part of this Incentive, Albania believes that there will be more opportunities to attract Chinese investments for its projects in road, sea and rail infrastructure. /balkaneu.com/