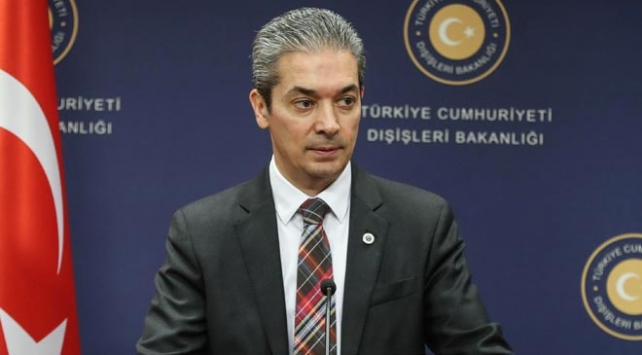 Turkey has not forgotten the atrocities Greece has committed against the Turks, Foreign Ministry spokesman Hami Aksoy said on Friday.
"Greece systematically exterminated Turks and Muslims in the region during and after the period of independence from the Ottoman Empire," Aksoy said in response to a statement by Greek President Prokopis Pavlopoulos during his recent visit to Armenia.
In a statement to the Armenian News Agency, the Greek President noted that we must not forget "even in the slightest the martyred moments" that the Greek and Armenian nations have experienced "not out of vengeance against our abusers, but because this memory leads us to serve, forever, the great humanitarian principle: Never again".
"These testimonies are drenched with the blood of the tragic victims of barbaric Genocides, in particular the Armenian Genocide on the one hand, and the genocide of the Greeks of Pontus and Asia Minor, on the other", Prokopis Pavlopoulos added.
"We see that Greece continues to take the side of the hostile circles against Turkey and support their unfounded position and their claims", ​​Aksoy said.
"We believe that the promotion of friendship and good neighborliness is the only way to promote peace, stability and prosperity in our region".
"Even today, Greece continues its inhumane practices against the Turkish minority, to the point of punishing a Mufti with imprisonment for his prayer on Friday", he added.
Aksoy said that while Turkey is taking peace and brotherhood lessons, rather than hostility, from history, it is also "well aware of these historical realities".
He also noted that Turkey's position on the events of 1915 during the Ottoman Empire was made clear by President Recep Tayyip Erdogan in his statement on April 23, 2014, while he was prime minister, so no further explanation is needed.
Turkey's position on the events is that the deaths of Armenians in Anatolia occurred when some sided with the Russian invaders and rebelled against the Ottoman forces. A subsequent relocation of the Armenians resulted in numerous casualties.
Turkey opposes presenting the incidents as "genocide" but describes the events of 1915 as a tragedy in which both sides were victims.
Ankara has repeatedly proposed the creation of a joint commission of historians from Turkey and Armenia, as well as international experts to address the issue, Aksoy concluded.
The answer of the Greek Ministry of Foreign Affairs
Foreign Ministry spokesman Alexandros Gennimatas responded to Hami Aksoy's statements.
"Turkey's insistence on distorting History is not appropriate for a modern state", the Greek Foreign Ministry spokesman said.
"We invite it to reflect on its historical responsibilities, especially regarding its behavior towards the Greek minority. Let it follow the example of Greece and finally work to establish good neighborly relations in our region and, of course, its European perspective", Gennimatas urged Turkey./ibna