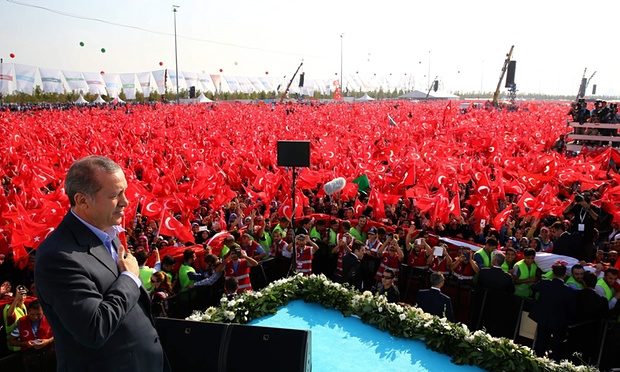 Ankara, September 21, 2015/ Independent Balkan News Agency
The Kurds see an attempt to reduce their parliamentary power
By Manolis Kostidis
Tens of thousands of Turks gathered in Yenikapı of Istanbul to take part in the "demonstration against terrorism". This protest was organised by the Justice and Development Party (AKP) and the key speakers were the President of Turkey, Recep Tayyip Erdogan, and the Prime Minister, Ahmed Davutoglu.
Political analysts argue that the reason behind this move was to cause the nationalist sentiment of Turkish citizens against the Kurds and especially against the pro-Kurdish Party HDP, with the ultimate goal of reducing its electoral strength for the elections of November 1.
"Here with thousands of people we give an answer to those who try to divide our country… here we say that we are one nation, one flag, one country", Erdogan said.
"The impressive thing is that those who need to put an end to terrorism, to find solutions, to wipe it out, go to the Squares and shout slogans", says Hürriyet's columnist Ahmet Hakan.
On Thursday, tens of thousands of Turks gathered in Ankara to protest against the PKK.
In recent weeks, 140 Turkish policemen and soldiers have been killed from the attacks of the PKK in southeastern Turkey.