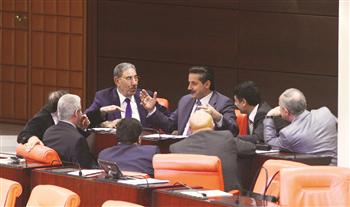 By Göksel Bozkurt
After Prime Minister Recep Tayyip Erdoğan said during his U.S. trip that "three ballot boxes might be set up" in 2014, possible scenarios started spurting from Ankara. The ruling Justice and Development Party (AKP) Deputy Chairman Hüseyin Çelik has said there could be local elections in March 2014, presidential elections in August, and a constitutional referendum in November.
Was it the sign of a new game plan that Erdoğan, who insists on the presidential system, wants to have a presidential election first and then hold the constitutional referendum? This question automatically comes to mind: "Why doesn't the AKP try to pass in the Parliament, with the support of the Peace and Democracy Party (BDP), and process for a referendum, a constitutional amendment including the presidential system or a president affiliated with a political party, in the fall of 2013 or between local elections and presidential elections?"
I searched for answers to this question in the AKP corridors. Two main concerns come up to the front in the ruling party's wing. The first is the reaction that would form in the society with the appearance of making a joint Constitution together with the BDP; and the damage this would cause to the AKP image that has been ruling the country with a constantly increasing voting rate… Even in those surveys AKP is ordering to be conducted, the support for the two parties writing a joint Constitution does not reach 30 percent.