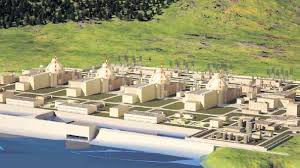 After the sixth meeting within 2017, yesterday's agreement to deepen bilateral ties and a two-hour meeting between the delegations of the two countries, important news that came out of it was that the major construction of the Akkuyu Nuclear Power Plant, in southern Turkey (Mercin Province), will start in two-three weeks, as President Erdogan said. Turkey's head invited the Russian President to the ceremony.
Financing is provided by Russian investors, with 93% from a Rosatom State Atomic Energy Corporation (Rosatom) subsidiary.
(Library) Photo: Sochi, Russia, May 3, 2017 – Alexander Zemlianichenko / Reuters
Apart from the long meeting (it lasted for two hours and ten minutes) of the two heads of state, Turkish President Recep Tayip Erdogan and his Russian counterpart, Vladimir Putin, their delegations met for another two hours after their presidents' talk. Erdogan was accompanied by ten ministers, the Turkish presidential spokesperson Ιbrahim Kalin and Hulusi Akar, the highest-ranking military officer in the Turkish Armed Forces, currently serving as the 29th Chief of the General Staff.
Syria, the ongoing conflict there and the latest developments were the main issue of the discussion. Erdogan was negative to the joint statement on solving the Syria conflict signed by Putin and Trump following a brief meeting in Vietnam. Before his visit to Russia, the Turkish president had said "I find it difficult to understand statements saying that no military solution is possible, while the central government of the country has killed one million people based on military methods. If that is the case, then they (Russia-U.S.) should remove their armies. Turkey has not sent its army there, they (Russia-U.S.) have."
After his meeting with Putin, Erdogan appeared more lenient with a possible political solution in Syria. "We consider the Vietnam joint statement of Putin-Trump important. I consider the betterment of the Turkish-Russian relations positive and regard the common steps we will take defence wise of great value."
(Library) Photo: Danang, Vietnam November 10, 2017 – Sputnik/Mikhail Klimentyev/Kremlin via Reuters
Putin believes that the bilateral ties have returned to "pre-crisis levels" stating that they will work on "bridging the gaps of the past year".
Regarding the S-400 missile system Turkish purchase from Russia, Erdogan said that "the deal is closed and we are only discussing technicalities."…/IBNA