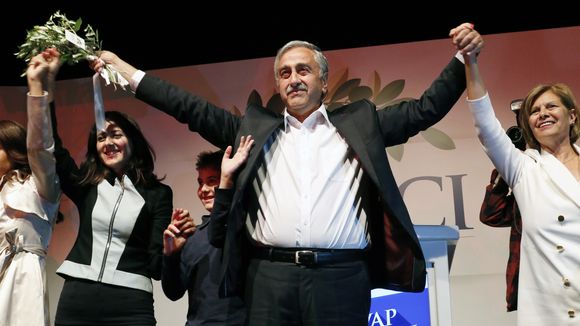 Nicosia, April 27, 2015/ Independent Balkan News Agency
By Kyriacos Kyriacou
Former Mayor of the northern Turkish occupied part of Nicosia Mustafa Akinci is the new Turkish Cypriot leader. The development was welcomed by the Greek Cypriot but not from Ankara who were clearly in favor for Dervis Eroglu's election.
With 98% of the votes counted, Akinci got 60,38%, corresponding to 65,412 votes in the elections that took place Sunday in the Turkish – occupied North areas of Cyprus. Incumbent Turkish Cypriot leader Dervis Eroglu got just over 39,62% (42,920 votes).
Mustafa Akinci was born in the southern coastal town of Limassol in 1947 and studied architecture. In 1976, at the age of 29, he was elected "mayor" of the northern Turkish occupied part of Nicosia.  This is the third time he has run for the leadership of the Turkish Cypriot community.
The Greek Cypriot side seems satisfied with election of Akinci, as it believes that he is a moderate and progressive politician, who can help break years of deadlock in the negotiations to reunite the divide island since the 1974 Turkish invasion.
They think that his win will end the era of extreme policies of Denktash and Eroglu. Akinci made it clear before his election that he wants the Turkish-Cypriots to escape from the shackles of Ankara. The leader of the Turkish Cypriot community acts as its representative at the UN-backed peace talks, which are expected to resume in May.
Positive reactions
Cyprus President, House President and all Greek Cypriot political parties welcomed Akinci's election as well as other countries such the United States.
President of the Republic Nicos Anastasiades has said on Monday that the election of Mustafa Akinci to the leadership of the Turkish Cypriot community creates hope that peace can return to the island and Greek Cypriots and Turkish Cypriots will live again together in harmony.
He added that he is determined to continue working hard for a solution to the Cyprus issue. He also said he was satisfied with the messages conveyed by "our friend, Mustafa Akinci".
Yesterday, he said, we have had developments which create hope that peace will prevail throughout the island once again and Greek Cypriots and Turkish Cypriots will be able to live together in peace like they used to for centuries.
President Anastasiades expressed the hope that apart from Greece`s beyond doubt support in the common effort of Cypriots for a solution, Turkey will also contribute because the occupation continues due to the presence of occupation troops on the island.
Erdogan reacts to Akinci's comment
Meanwhile, a comment made by newly elected Turkish Cypriot leader Mustafa Akinci regarding the relationship between Ankara and the Turkish Cypriots has Turkey's irked President Tayyip Erdogan, reports said on Monday.
Responding to a comment by Akinci that "there is no longer a 'little' country but two sister countries," Erdogan said "Mr. President must hear with his ears what is coming out of his mouth."
Erdogan went on to say that Turkey paid for the Turkish Cypriots' upkeep and suggested they could not make it on their own.
"Turkey sees north Cyprus as a little country, yes. Whatever the relation a mother has with her child, this would continue to be the relation with her child," the Turkish President said.
Erdogan said Turkey fought for Turkish Cypriots on the international stage and wondered whether Akinci could fight the fight alone.  "We cannot look at Cyprus the same way they look at it," he said. Erdogan said sensitivity and caution was necessary.
Akinci, who was in a CNNTurk studio listening to Erdogan, replied immediately: "So we must remain a little country forever? Never grow up and stand on our own feet?"
Akinci said he was not happy getting into an argument with Erdogan. He sought to clarify that his statement did not exclude Turkey; on the contrary, he meant a mutual relation.
"There might be different approaches, we will sit and talk," Akinci said. The Turkish Cypriot leader said Erdogan was wrong and that he planned to contact him after his interview.
He said the exploited motherland philosophy must be put aside and "fraternal relations" introduced.